University of Winchester boosts sustainable credentials with Green Tourism Silver Award
23 Sep 2019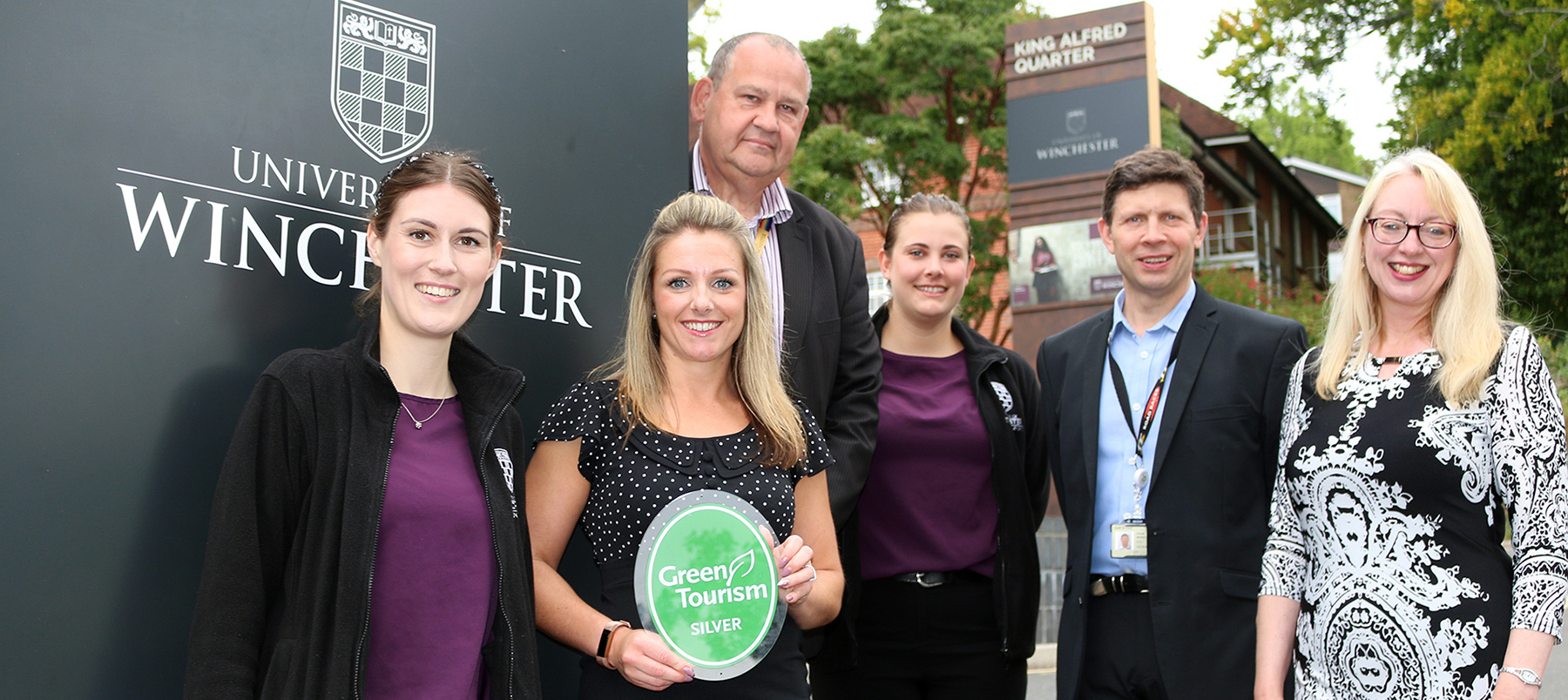 The University of Winchester's commitment to sustainability throughout its business operations as a conference centre and events facility has secured a Silver Award from Green Tourism, the largest sustainable certification programme in the world.
"The University is committed to reducing its environmental impact and using pioneering sustainable measures to operate efficiently, and nowhere is this more apparent than in our conference and events business," said Claire Mitchell, Head of Facilities and Business at the University.
"We are thrilled with this award which is a hallmark of 'green quality' and demonstrates to our visitors that we are passionate about sustainability and are taking steps to make a difference, while at the same time offering them a high-quality experience, whether they come to Winchester for a conference or a wedding ceremony."
Winchester was praised by Green Tourism's independent assessors for a number of its sustainability initiatives. They highlighted the wide use of LED lights and solar panels in venues, the ethical food and drink choices that feature on menus, which support food producers and animal welfare, and the drive to reduce the use of disposable cups. The fact that wildlife is actively encouraged onto University grounds by creating and enhancing biodiverse habitats was also commended.
A top score of 100 per cent was given for innovation, in recognition of projects such as the collection of coffee grounds which turns coffee waste from campus cafes into a growing medium for oyster mushrooms.
In 2018, the University banned plastic straws throughout its catering outlets and recently pledged to eliminate the use of all unnecessary single-use plastic by the end of December 2020.
The University hosts around 550 business and academic conferences each year, as well as a wide range of lectures, film screenings and other events open to the public, at its King Alfred and West Downs Quarters.
A Green Tourism Award means that a business works responsibly, ethically and sustainably, contributes to their community, is reducing their impact on the environment and aims to be accessible and inclusive to all visitors and staff.
To achieve Silver accreditation, the University was graded on site by a qualified assessor against a rigorous set of criteria, covering a range of areas such as energy and water efficiency, waste management, biodiversity and social involvement and communication.
Plans are already in place to work towards attaining the Green Tourism Gold Award.
Press Office | +44 (0) 1962 827678 | press@winchester.ac.uk | www.twitter.com/_UoWNews
Back to media centre