University of Winchester flies footprint flag for human rights
21 Jun 2019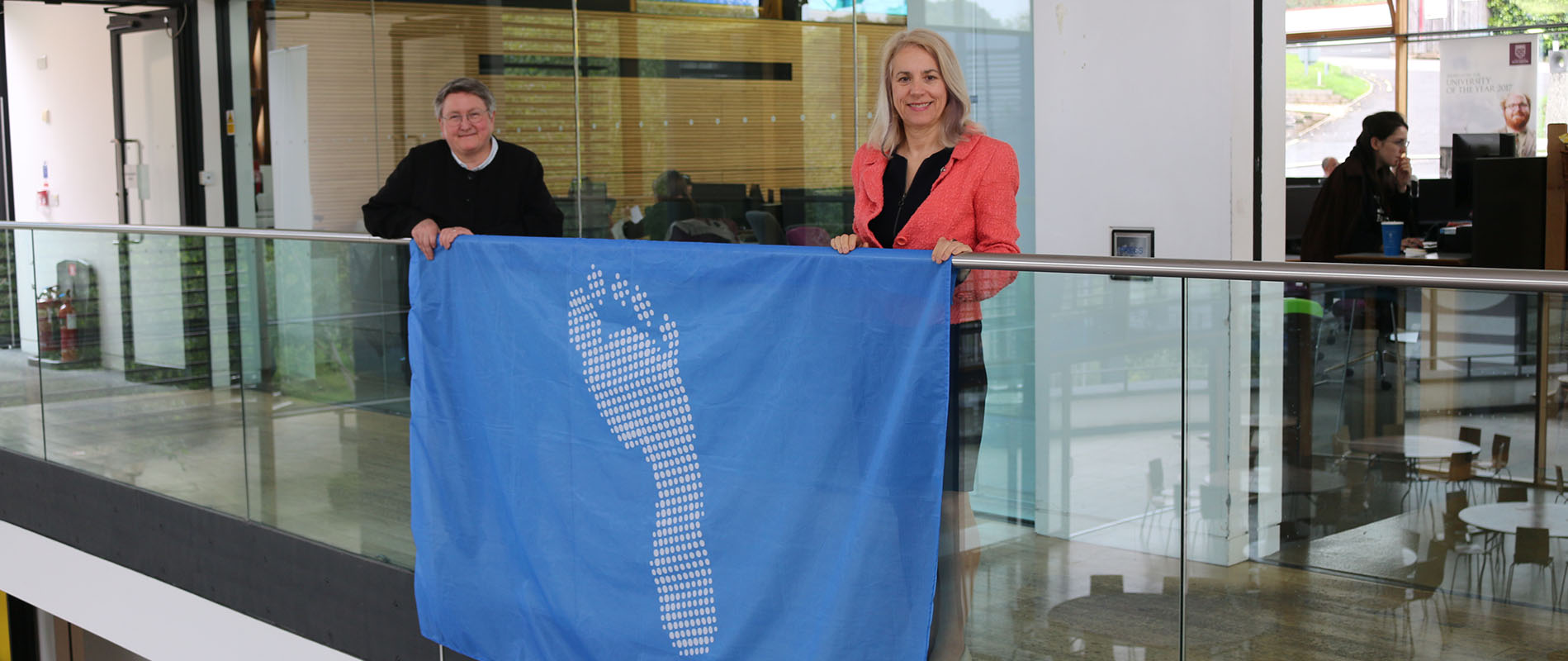 A flag designed by Chinese artist and activist Ai Weiwei will fly above the University of Winchester's West Downs Quarter on Romsey Road for seven days from 24 - 30 June to celebrate 70 years of the United Nations' Universal Declaration of Human Rights.
As part of the grassroots Fly the Flag campaign, arts organisations and human rights charities are encouraging people across the UK to get involved to raise awareness and understanding of the importance of human rights. The pale blue flag has a footprint made up of white dots at its centre, a symbol the artist says relates to anyone who has ever been forced to flee.
Professor Joy Carter, CBE, DL, Vice-Chancellor of the University of Winchester, said: "We are proud to have a long history of upholding people's rights, seeking justice and challenging prejudice. As the university for social justice and sustainability, our values underpin everything we do. This is reflected in our commitment to continually improve our business practices to ensure we consistently uphold human rights and our goal to ensure equality for all - at Winchester and globally. This is a great opportunity to be part of a moment of hope, togetherness and creativity."
The Universal Declaration of Human Rights was a milestone document. It was adopted by the United Nations General Assembly in Paris on 10 December 1948 as a common standard of achievements for all peoples and all nations. It set out, for the first time, fundamental human rights to be universally protected. It continues to form the basis of international human rights law and has been translated into more than 500 languages.
The Fly the Flag initiative includes a week of events and activities across the UK such as flag-making, human rights talks, theatre productions and circus performances. The opening day event takes place at Somerset House in London, where visitors can walk barefoot and hear the 30 articles of the Universal Declaration.
Photo above shows First Deputy Vice-Chancellor Professor Elzabeth Stuart (left) and Professor Joy Carter (right) with the footprint flag.
Press Office | +44 (0) 1962 827678 | press@winchester.ac.uk | www.twitter.com/_UoWNews
Back to media centre