University of Winchester graduate secures publishing deal
28 Nov 2019
A University of Winchester MA Creative and Critical Writing graduate has secured a publishing deal with her debut crime novel, which focuses on a protagonist who suspects her husband of being Jack the Ripper.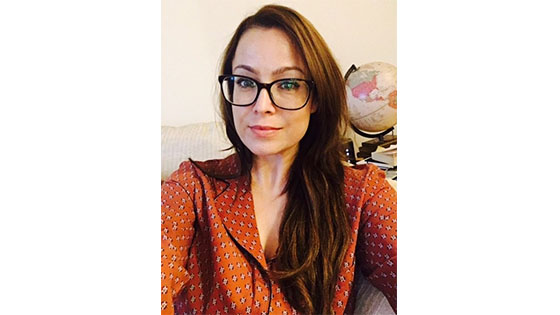 Pictured above, author Clare Whitfield
Clare Riley Whitfield's book, entitled People of Abandoned Character, has been picked up by publishing house, Head of Zeus and will be released in October 2020.
The book's synopsis reads: "When Susannah Chapman rushes into marriage with wealthy surgeon Thomas Lancaster, she believes her future is set. But after the honeymoon things start to turn sour at home, and as Susannah follows the newspaper reports of the terrifying killer stalking the streets of Whitechapel, her suspicions over where her errant husband has been spending his time take the darkest route possible."
The inspiration for Clare's book came from an adult creative writing workshop which she attended at Barton Peveril Sixth Form College. Clare said: "It came from an exercise where we had to draft a piece based on a news article (Jack the Ripper) and write about it from the perspective of a person, not a victim and not a policeman! So I wrote about it from the perspective of a woman who thought she might be married to the Ripper. It was an idea that wouldn't leave me alone."
Madeleine O'Shea, commissioning editor at Head of Zeus, Clare's publisher, purchased world rights from David Headley at D H H Literary Agency. People of Abandoned Character, will be the first book in a two-book deal, and will be published as Head of Zeus's lead crime debut for the year.
Madeleine O'Shea said: "This book has the biggest, most explosive central hook – a new bride suspects her mysterious husband of being the notorious killer, Jack the Ripper. How could you not be gripped? People of Abandoned Character is page-turning for sure, but it also engages with important questions on gender, class and mental health, making it a book for crime-lovers and reading groups alike."
Clare Whitfield lives in Southampton and is married with one teenage daughter. She has a black labrador called José who provides much needed comfort and support and is a constant companion when writing. Clare has a diverse range of skills, having been a dancer, copywriter, amateur fire breather, buyer and mediocre weight lifter. The variety of life experiences she has at her disposal keep her writing style fresh and enable her to draw from many different sources of inspiration.
"We're delighted Clare's novel has been selected for publication and, as a recent graduate of our Masters programme, that she's realised her ambition to become a recognised, published author." Said Programme Leader for MA Creative Writing, Nick Joseph.
"Our aim, on the MA Creative Writing course, is to foster and develop emerging talent and to aid emerging writers in their fields for publication. It is wonderful, then, to be able to add Clare's name to the list of our graduates who have gone on to achieve success with their literary fiction, crime fiction, fantasy, historical fiction, young adult fiction, short fiction, literary non-fiction and poetry.
"Winchester's MA Creative Writing continues to attract the very best in new and emerging talent, and Clare can add her name to alumni who include Claire Fuller, Rebecca Alexander, Sarah Lean and Marc Brightside, to name but a few. It is a strength of our programme that we're not only able to offer expert input across such a wide range of writerly disciplines, but that we're able to attract such gifted individuals onto it."
Clare has some advice for anyone aspiring to write. "I would say in terms of writing, there is nothing stopping anyone from learning what they can from reading and writing themselves and submitting to online journals or sharing in workshops, as long as they are ready to recognise when criticism chimes with an inner instinct and face into it."
Clare suggests that persistence is key when trying to circulate new work. She described the process of writing as a slow but consistent one: "You have to crack on, inch by inch. I learned to loosen up a bit. I might have a plan when I start out, but it can change along the way - it's messy and that's fine."
Clare says she left her comfort zone to pursue the story of the Ripper, and wouldn't have known what she could achieve if she hadn't. "I was hesitant to stray into historical fiction and Ripper territory, but in the end I had to exorcise the demon, and I am very glad I did!"
Press Office | +44 (0) 1962 827678 | press@winchester.ac.uk | www.twitter.com/_UoWNews
Back to media centre