University of Winchester invites visitors to create 'open sanctuary' for contemplation and reflection
11 May 2022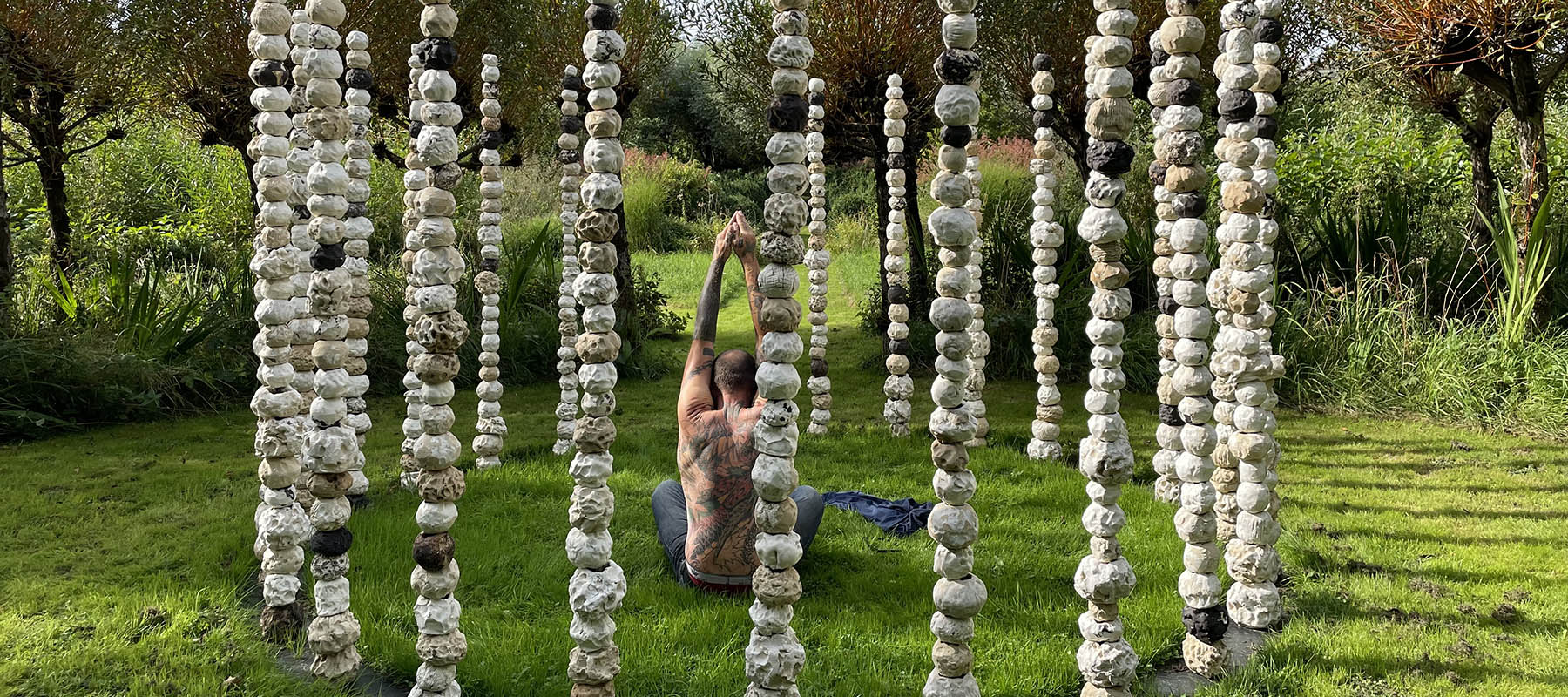 A striking art installation will be created in the University of Winchester's West Downs Gallery this summer, with visitors invited to work closely with the artists on a new sculptural work representing sanctuary.
'Open Sanctuary' is a sculpture made from hundreds of individual ceramic balls which, when completed, will form a circular space for visitors to sit quietly and meditate on what 'searching for sanctuary' means for them.
In a series of workshops led by artists Fiamma Colonna Montagu and Sam Selwyn Bazeley, participants will be guided through a meditation whilst creating a ceramic ball using natural clays. After firing, each ball will be slotted onto a large circular armature to slowly build the sculpture, until the work is complete.
The artists hope that after the exhibition the sculpture will find a permanent home in the city of Winchester as a space for residents and visitors alike to gather, whatever their faith, to be able to meditate on what 'searching for sanctuary' means for them individually.
Artist Sam Selwyn Bazeley explains: "Our aim is to make art works which extend beyond traditional sculpture, creating art which makes us all accountable and requires acts of public participation. In these works, the artwork is 'activated' by the direct involvement of the viewer.
"We have designed the work so that the size and scale of the circle of totems will form a protective boundary around someone while they meditate, so they can do so in the open air and in a public place. The sculptural space is open to all faiths, creating an outdoor 'sacred space' stripped to its most essential requirements with nature all around."
Artist Fiamma Colonna Montagu added: "We chose the University of Winchester to create 'Open Sanctuary' because of the specific links the University has with interfaith communities and sanctuaries.
"In May 2022, we also find the idea of sanctuary especially resonant - with so many people having to flee from their homes in the Ukraine, as well as Afghanistan and around the world, we have to, in the words of the Buddhist monk Thik Nhat Hahn, (a long time exile himself from his birth country of Vietnam), create a new 'home' or 'sanctuary' elsewhere."
Winchester is one of 14 UK Cities of Sanctuary who have stated their aim to act as beacons of welcome and safety to those coming across borders to find peace. The University was named a University of Sanctuary in 2018 in recognition of its initiatives to welcome refugees and asylum seekers and support them in higher education study.
Chloe Battle, Manager of the West Downs Gallery at the University, said: "We hope people will join us in the West Downs Gallery and be an active part of creating this exciting and meaningful sculpture. Everyone involved will become forever part of this work. We are looking forward to seeing the sculpture grow over the weeks as new pieces of ceramic are added."
'Open Sanctuary' will run from Saturday 28 May until 28 June 2022. Alongside the workshops the University is running a series of talks in which the artists and academics will discuss ideas of meditation, peacebuilding, sacred spaces and sanctuary.
The calendar of workshops and talks is:
Thursday 26 May
Workshop 2pm to 4pm
Talk 5pm to 6pm with Professor Mark Owen, Director, Centre for Religion, Reconciliation and Peace who will discuss Buddhism, peacebuilding and Thik Nhat Hahn's ideas of using meditation to create a home or safe place of sanctuary.
Wednesday 8 June
Workshop 2pm to 4pm
Talk 5pm to 6pm with Rosie Holmes, Buddhist Faith Adviser who will talk about using clay as part of a meditative practice.
Wednesday 15 June
Workshop 2pm to 4pm
Talk 5pm to 6pm with Dr Terry Biddington, Dean of Spiritual Life who will discuss the creation of multifaith sacred spaces
Workshops and talks are free for visitors to attend: booking is essential via Eventbrite at this link..
The West Downs Gallery is open from 8am until 6pm Monday to Friday and 8.30am to 4.30pm on Saturday.
Press Office | +44 (0) 1962 827678 | press@winchester.ac.uk | www.twitter.com/_UoWNews
Back to media centre