University of Winchester joins forces with Government to tackle carbon emissions
18 Oct 2018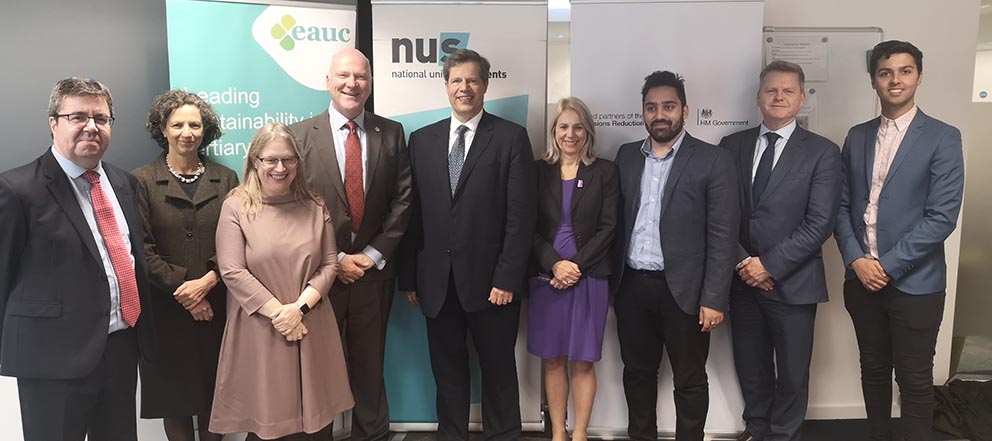 Professor Joy Carter CBE DL, (pictured above fourth right) today signed the Government's Emissions Reduction Pledge, committing to reducing the University of Winchester's carbon emissions by 30 per cent by 2020/21.
She was one of five vice-chancellors from five UK universities and Students' Union representatives who met with the Department for Business, Energy, and Industrial Strategy (BEIS) Director General Julian Critchlow, and Office for Students CEO Nicola Dandridge to officially sign the Pledge.
The pledges made by all five universities are reflective of the dedication and aspiration in the higher and further education sectors when it comes to reducing carbon emissions.
The event was organised and facilitated by the Environmental Association for Universities and Colleges (EAUC) and the National Union of Students (NUS) for Green GB Week, a landmark celebration of Clean Growth.
"Universities are influential voices in local, regional and national society, so have an important role to play in showing leadership in our collective efforts to tackle climate change, " said Nicola Dandridge, Chief Executive at the Office for Students (OfS). "Students expect their universities to be taking action on this issue, including by highlighting the impact of unchecked climate change and making sure they are leading by example in reducing their own carbon footprint."
"These universities are taking important steps to address a problem which will affect us all, and I hope many more universities will consider signing up to the emissions reduction pledge."
The other four institutions that made the pledge along with Winchester today are the University of Reading, Northumbria University, Newcastle University and the University of Nottingham.
The signing was also attended by EAUC CEO, Iain Patton, and Vice President of the National Union of Students (NUS), Ali Milani.
Press Office | +44 (0) 1962 827678 | press@winchester.ac.uk
Back to media centre