University of Winchester joins Hedgehog Friendly Campus campaign
29 Oct 2019
Staff and students at the University of Winchester are actively engaged in various initiatives to attain Hedgehog Friendly Campus (HFC) accreditation. The message from this national scheme, funded by the British Hedgehog Preservation Society, is that hedgehog populations are in decline, but universities can be part of the solution by enacting positive change. As we approach Bonfire Night, when hedgehogs can be at risk due to unchecked foliage, dedicated hedgehog rescuer and second year MSc Animal Welfare Science, Ethics and Law student, Carol Cook, tells us more - after a brief video introduction from the HFC.
Hedgehog Friendly Campus Survey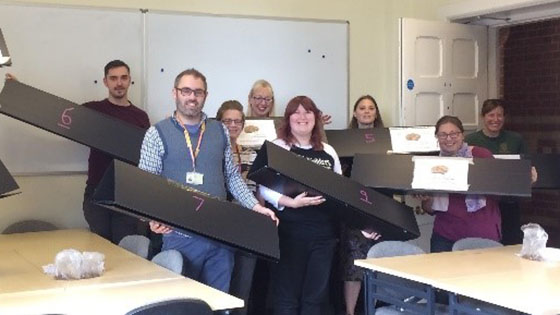 The HFC team pictured above with their survey tunnels, before setting them up at West Downs
In September, staff and students took part in the University's first hedgehog surveying workshop, run by Jo Wilkinson from the HFC campaign. The HFC team work with the British Hedgehog Preservation Society (BHPS) and People's Trust for Endangered Species (PTES). The day began with an informative presentation from Jo, which initiated discussion amongst the team about hedgehogs, the threats they face (there are a lot!) and how humans can help them. Thanks to the University's Environment Team and Grounds Team, the campus already benefitted from hedgehog homes, hedgehog highways and wild spaces, but the HFC team are determined to implement more strategies to improve habitat and make the campus more hedgehog and wildlife friendly. This is being embedded into our Biodiversity Action Plan.
After the presentation, the team constructed survey tunnels. These use non-toxic charcoal based ink to capture mammal prints on blank paper: the hedgehogs (and sometimes other mammals) are enticed in with tasty food. The team agreed to target three sites to begin the surveys, two at the West Downs Quarter and one at Alwyn in the King Alfred Quarter. The tunnels were placed and checked every morning over a five day period to establish evidence of a hedgehog population or otherwise.
Evidence of Hedgehogs
Yes! We found conclusive evidence that hedgehogs are visiting our campus. And not just on day one of the survey, but on all five survey days!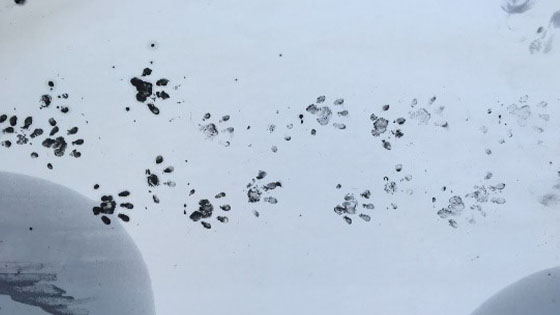 Pictured above, Hedgehog prints from West Downs survey
The surveys will be rolled out across the entire University and will continue during the most active time in the hedgehog season, April to October. Concurrently, the team will complete various initiatives set by HFC on a bronze, silver and gold task list. Follow us on Twitter @hogfriendlyUoW or, join in by emailing myself, Carol Cook on c.cook2.17@unimail.winchester.ac.uk.
We are on track to be one of the first University teams to submit for Hedgehog Friendly Campus status; we will find out in the New Year whether Winchester has achieved Bronze HFC status.
For more information on the national campaign, follow Hedgehog Friendly Campus on Twitter (@hogfriendly) and Facebook (@hedgehogfriendlycampus) or email info@hedgehogfriendlycampus.co.uk.
The Hedgehog Friendly Campus Campaign and You
If you find a sick or injured hedgehog, or a hedgehog out in the day, they are in trouble so please pick up the hedgehog with a towel and place them in a high-sided box with a hot water bottle (wrapped in a towel), and fresh water. Put the box in a quiet, undisturbed area. Please do not feed the hedgehog. Immediately contact BHPS on 01584 890801 for advice.
There are many things you can do to help make the world a little more hedgehog friendly.
Provide a shallow dish of fresh water.
Cut a small hole in your fence to create a 'hedgehog highway' and ask your neighbours to do the same.
Pick up litter, lift netting, and provide an access path from steep-sided ponds.
Do not use chemicals in your garden.
Check before you mow or strim your garden because your 'messy' garden and compost heaps are a very desirable home to a hedgehog and to other small creatures.
Slow down when driving and always check whether a hedgehog curled on the side of the road might still be alive.
Provide log and leaf piles.
In the lead up to Bonfire Night, check bonfires and ideally move them before you light up.
You can also mark any hedgehog sightings on the Big Hedgehog Map, to monitor the progress of the hedgehog population. Through this, you can also pledge to make a hedgehog hole, and download their handy how-to guide. For the a full list of tips, visit Hedgehog Street.
During Graduation 2019, Carol was presented with an award for her extensive work as the HFC appointed University Hedgehog Champion. At the ceremony, Carol was given the Community Engagement Award for her work in helping the University become an accredited Hedgehog Friendly Campus. Professor Andrew Knight, Founding Director of the University's Centre for Animal Welfare helped secure Carol's involvement in the project. Thanks to her commitment, alongside the Hedgehog Friendly Campus team she has inspired, the University now appears on the Hedgehog Heroes Roll of Honour.
Press Office | +44 (0) 1962 827678 | press@winchester.ac.uk | www.twitter.com/_UoWNews
Back to media centre