Winchester creative writing graduate wins Richard and Judy 'Search for a Bestseller' competition
12 Feb 2019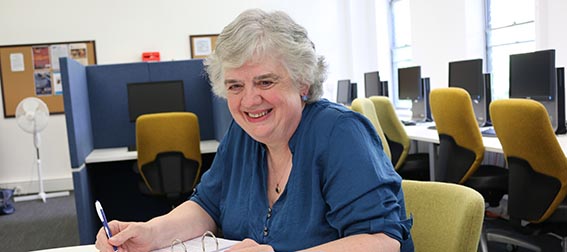 A creative writing graduate from the University of Winchester has won Richard and Judy's third 'Search for a Bestseller' competition for first-time unpublished writers.
Claire Gradidge's winning historical crime novel, The Unexpected Return of Josephine Fox, is set during World War II in the Hampshire market town of Romsey where she was born and brought up. The book came top of a shortlist of five announced last July.
Her prize is a publishing contract for world rights with Bonnier Zaffre worth £30,000 and specialist advice and representation from literary agency YM&U (formerly Furniss Lawton). Her novel will be published in July 2019 and will be stocked in WH Smith stores across the country.
Following the news of her win, Claire said: "I'm absolutely thrilled by winning this competition. Ever since I was a small girl, I have wanted to be a published writer and it's very exciting that my dream will come true later this year. The University has been a very creative place to develop my writing and has helped me to grow as a writer. It's a fantastic forum for sharing work, which is always important."
In The Unexpected Return of Josephine Fox, Jo returns to her home town of Romsey after a long absence on a quest to solve the mystery of who her father was. She arrives in the town just after an air raid has destroyed a local pub. Seven known bodies are retrieved from the ruins, but an eighth body - that of an unknown girl - is also recovered. As Josephine works alongside the coroner to establish the identity of the girl and discover who the murderer is, she also uncovers her own personal history.
The novel was written as part of Claire's PhD in creative writing which she gained at Winchester in 2018, under the supervision of Neil McCaw, Professor in Victorian Literature and Culture, and Inga Bryden , Professor of Cultural History. Claire also graduated from the University of Winchester with a first-class honours degree in creative writing and now lectures in creative writing at Winchester.
"This is a fabulous recognition of Claire's creative writing talent, one that does her - and the University at which she studied as both an undergraduate and a postgraduate - enormous credit. We are all very proud of her achievements and hope to invite her back to talk with our students once she is an internationally-best-selling author," said Professor Neil McCaw.
Congratulating Claire, Professor Alec Charles, Dean of the Faculty of Arts, said: "We're incredibly proud of Claire's achievement, both as a colleague and as a former student of our Faculty. It's brilliant that Claire continues to teach with us, passing her insights and skills onto future generations of bestselling authors!"
Katherine Armstrong, Editorial Director for crime fiction at Bonnier Zaffre said: "I read The Unexpected Return of Josephine Fox in one sitting and what kept me turning the pages was Claire's brilliant characterisation of Josy Fox - she's sparky and determined and I know that readers will enjoy getting to know her as much as I did."
Richard Madeley and Judy Finnigan said: "The shortlist was outstanding, but Claire Gradridge's writing really stood out. She brilliantly captures small town life and shows how, even when everyone seems to know everyone else's business, tragic secrets can still be hidden. We can't wait for readers to share our excitement for this book."
The Unexpected Return of Josephine Fox will be published by Bonnier Zaffre in July 2019.
Press Office | +44 (0) 1962 827678 | press@winchester.ac.uk | www.twitter.com/_UoWNews
Back to media centre