Winchester Poetry Festival moves HQ to University of Winchester
4 Mar 2019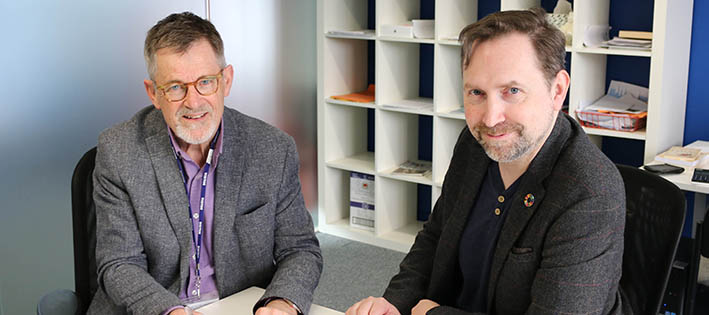 Winchester Poetry Festival is relocating its office to the University of Winchester. The move follows the highly successful collaboration between the two institutions who last year agreed a five-year partnership to strengthen the cultural life of the city and encourage more participation from young people.
In October 2018, the University of Winchester hosted a special celebratory event on National Poetry Day, as part of the Poetry Festival's Young Wordsmiths project - an educational programme which mentors talented local sixth-form students in the art of verse. Students from the University helped organise the 2018 Festival and made a film about the Festival's events.
The Winchester Poetry Festival was established in 2013 and is now a popular and highly esteemed feature of the city's cultural life. In addition to its major biennial festival, for which it is best known, the Poetry Festival also runs an annual poetry competition and a series of educational and literary events throughout the year.
The ongoing agreement between the University and the Festival includes opportunities for students to participate in work placements and to gain special access behind the scenes at Festival events, as well as free entry to the annual poetry competition and cooperation in teaching and research activities.
"It's wonderful to be working so closely with this exciting Festival," said University of Winchester Vice-Chancellor, Professor Joy Carter CBE, DL. "The University is renowned for the quality and popularity of our programmes in Creative Writing and English, and it will be marvellous for our students to be able to work with the Festival organisers on campus."
Stephen Boyce, Chair of Winchester Poetry Festival, said: "We're delighted to have concluded this new agreement with the University. In addition to our biennial Festival we now run an annual poetry prize, education activity and one-off poetry events. Having office space on the campus and interacting with University staff and students provides welcome support and a great opportunity for the Festival to continue to develop."
The University of Winchester also has a range of key partnerships with Theatre Royal Winchester, Winchester Hat Fair, Winchester Film Festival, Winchester Speakers Festival and The Point, Eastleigh - and with Blue Apple Theatre, who have also relocated their office onto the University campus.
"It's brilliant to welcome the Winchester Poetry Festival to the heart of our campus," said Professor Alec Charles, Dean of the University's Faculty of Arts. "This is a fantastic opportunity for our students to gain valuable experience supporting the organisation of these excellent literary events in the heart of Winchester - and for us to support this excellent work in promoting the pleasures of poetry."
Press Office | +44 (0) 1962 827678 | press@winchester.ac.uk | www.twitter.com/_UoWNews
Back to media centre