Winchester Research roundup January 2019
4 Feb 2019
Discover our latest research and academic news, including the launch of a specialist new clinic which is set to enhance the health, wellbeing and quality of life of stroke patients in Hampshire.
Research-based stroke rehabilitation clinic launched by Winchester health experts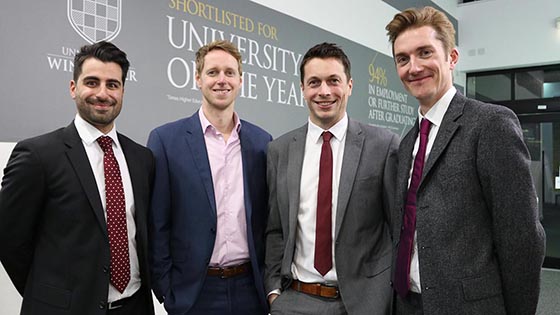 Health experts at the University of Winchester - alongside partners at Hampshire Hospitals NHS Foundation Trust and Hobbs Rehabilitation - have launched a new community clinic to help improve the health, wellbeing and quality of life of stroke victims through exercise and education.
The not-for-profit Health Enhancing Lifestyle Programme (HELP) Hampshire Stroke Clinic will build on research carried out by Winchester academic Dr James Faulkner, HELP Hampshire programme lead and exercise physiologist, to provide tailored treatment to each patient. In partnership with collaborative research partners in the UK and abroad, Dr Faulkner has worked with over 100 stroke patients in hospitals and in their own homes over the past three years to find out how to best support their recovery since 2015. Find out more.
Photograph above shows (left to right): Ariyan Alimadad, HELP Hampshire Programme Manager; Louis Martinelli, specialist physiotherapist, Hobbs Rehabilitation; Dr James Faulkner and Professor Simon Jobson, Dean-Designate of the Faculty of Health and Wellbeing.
Ethics committee appointment for leading information rights law expert
Marion Oswald, Senior Fellow in the Department of Law, and Director of the University's Centre for Information Rights, has been appointed chair of the new West Midlands Police and Crime Commissioner and West Midlands Police Ethics Committee.
Made up of diverse volunteers from academia, the community and elsewhere, with a wide range of expertise, the Committee will review, challenge and advise on the innovative data analytics projects being developed by the Force and, in particular, to advise on the public good.
"As far as I'm aware, the Committee is the first of its kind in UK policing, in its focus on data analytics," Marion Oswald commented.
New ethical framework for non-human primate experimentation proposed by Winchester researchers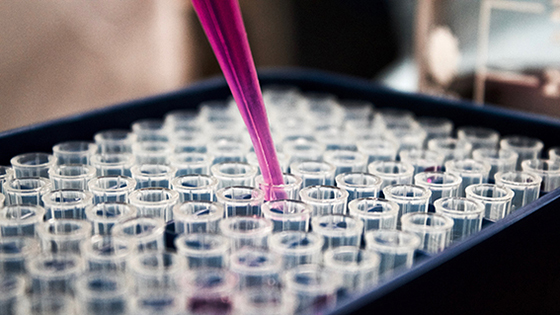 A new research paper by members of the University's Centre for Animal Welfare argues that the main ethical framework used to assess and justify experimentation on non-human primates is inadequate for its purpose.
In Ethical and Scientific Pitfalls Concerning Laboratory Research with Non-Human Primates, and Possible Solutions, primary author Constança Carvalho, a Winchester PhD student based at the University of Lisbon, and Professor Andrew Knight, Director of the Centre for Animal Welfare, propose a change of framework that would benefit non-human primates and improve research quality.
Guidelines for laboratory animal research rely on the utilitarianism ethical framework, which determines right from wrong by focusing on outcomes. The authors argue this is inadequate and that a deontological approach - used for human-based lab research - is more suitable, since we arguably have moral duties to non-human primates.
The study is published in the journal Animals (Vol 9, Issue 1, January 2019). Read the paper, abstract and simple summary online.

The Centre has also just launched a YouTube channel featuring short videos about animal welfare issues.
Symposium focuses on dance training, techniques and skills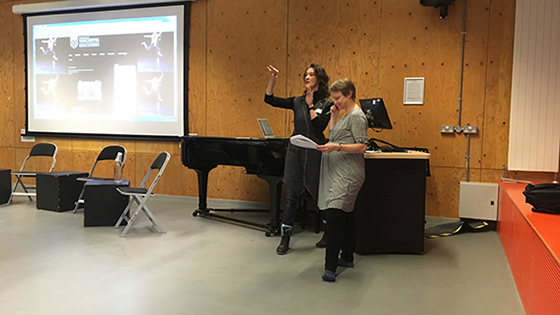 Dance artists, educators and practitioners gathered at the University just before Christmas to share best practice and discuss issues arising within dance training in higher and further education.
The Symposium - Bridging dance training contexts: re-assessing techniques and skills for the social and cultural sphere - focused on a number of key issues, including access to dance training and its relevance for contemporary society, the reduction of provision for dance at schools in Britain, and the increasing pressure from industry for flexible, multi-skilled and efficient dancers.
Featuring a line-up of international speakers, the event was convened by Dr Cathy Seago, programme leader for BA (Hons) Dance, and Dr Noyale Colin, Senior Lecturer in Choreography, both based in the Department of Performing Arts, and members of the University's Centre for Performance Practice and Research.
Winchester Professor of Applied Music publishes autobiography

The Reverend Professor June Boyce Tillman MBE hosted a reception at the University to mark the publication of her new autobiography.
Freedom, Song, Faith, Abuse, Music and Spirituality: A Lived Experience of Celebration (2018, Peter Lang) charts the way in which her Christian faith was refined by her lived experience of music, abuse, forgiveness, interfaith dialogue, gender and vocation (into teaching and priesthood). Professor Boyce-Tillman describes how music and spirituality can create a route into forgiveness by creatively transforming ('mulching') childhood abuse into celebration.
Photograph above shows Vice-Chancellor Professor Joy Carter CBE, DL (right) at the book launch with Professor June Boyce-Tillman.
Seminar asks: is there a plausible route to an English Parliament?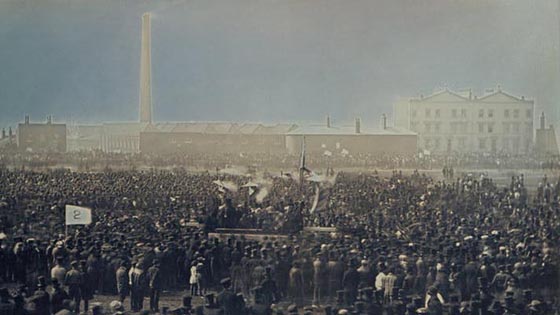 A one-day seminar - hosted jointly by the University's Centre for English Identity and Politics (CEIP) and Centre for Parliament and Public Law (CPPL) at the beginning of January - brought together experts in constitutional reform, political science and local government with activists and campaigners to discuss questions around establishing an English Parliament.
For 20 years, most English residents have said that laws that only affect England should only be made by English MPs and recent polling shows majorities for an English Parliament and radical devolution within England.
Speakers at the seminar included Professor Dan Wincott (Cardiff University); Sir Paul Silk (Constitutional Reform Group); Jack Sheldon (Constitution Unit, University of Cambridge); Mark Sandford (House of Commons Library); Jessica Garland (Electoral Reform Society), and Scilla Cullen (Campaign for an English Parliament), as well as John Denham, Professor of Knowledge Exchange and Director of the CEIP, and Dr Craig Prescott, Senior Lecturer in Law and Director of the CPPL.
Blog highlight: Born to play?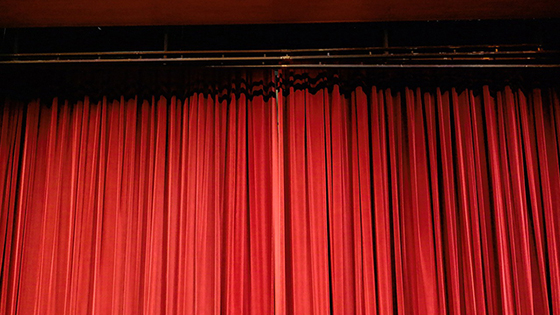 On the University blog Tim Prentki, Professor of Theatre for Development, asks whether all the world is a stage and argues that education needs to start from play: play time, making plays, and understanding that our identities are never fixed, but always in play. Read the post.
Press Office | +44 (0) 1962 827678 | press@winchester.ac.uk | www.twitter.com/_UoWNews
Back to media centre