Young Person's Climate Assembly helps chart course to zero carbon in Winchester District
26 Nov 2021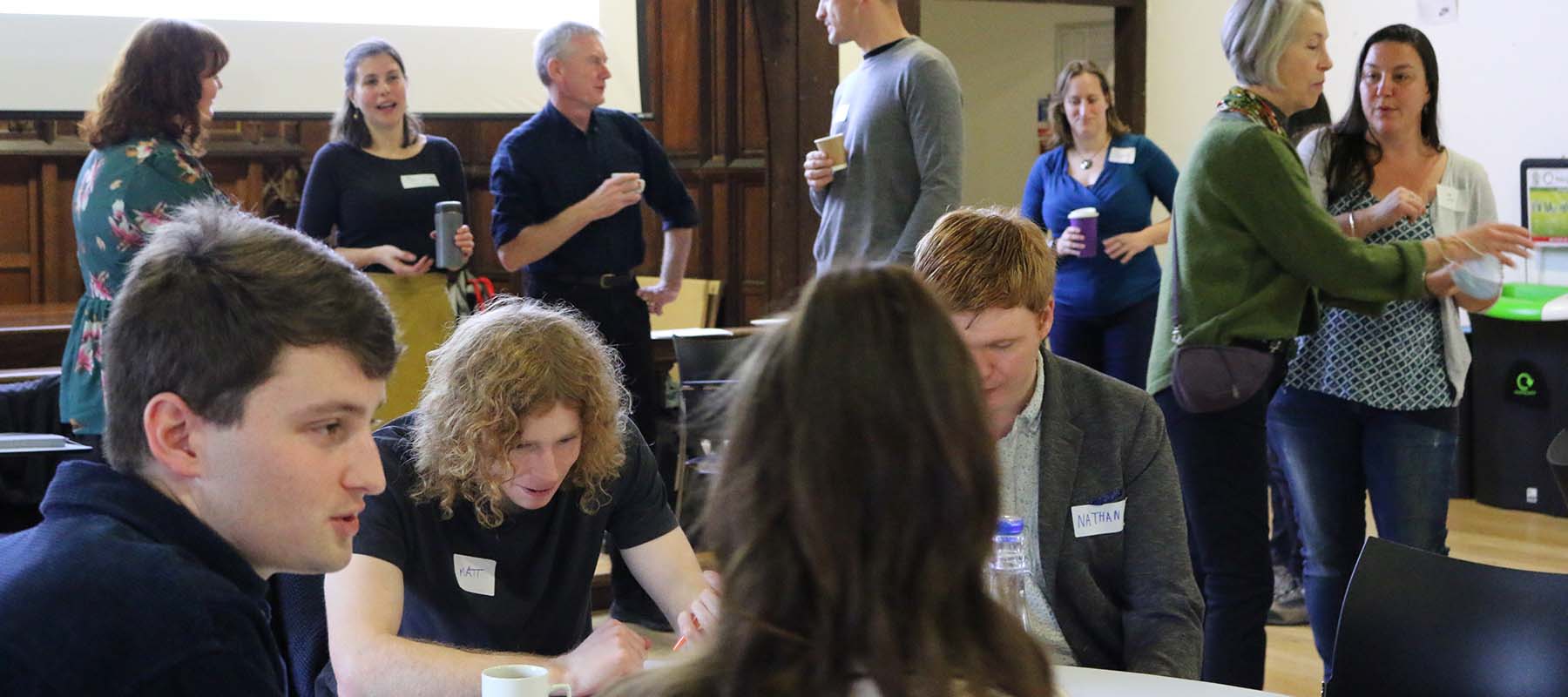 Over 25 young people aged between 16 and 30 who live, work and study in and around Winchester came together at Winchester District's first-ever Young Person's Climate Assembly last weekend on Saturday 20 November to send a message to local decision makers about climate change and the urgent need for action.
The one-day event - subtitled Accelerate Winchester: action on the climate crisis - used the outcomes of the COP26 Climate Conference in Glasgow earlier in November as a springboard to give young people a platform to discuss and debate a vision for a fair transition to a zero carbon future for Winchester. There was also an opportunity to learn more about what might be done locally to tackle the causes of climate change.
A panel of seven expert contributors, two senior local councillors and the Mayor of Winchester District, Cllr Vivian Achwal also took part in the Assembly. The Assembly was introduced by Professor Robert Beckford, Director of the University of Winchester's Institute for Climate and Social Justice. Other speakers included Megan Streb of Sustrans South, Katie Campling of Earthian Winchester, Guy Derwent of Guy Derwent Architects, Sam Watts of Winchester Food Partnership and Tammi Sinha of Wessex Green Hub.
Participants generated a call to action for councils, including 25 recommended actions covering energy, transport, buildings and homes, food, jobs and lifestyles. Councillors Martin Tod and Hugh Lumby committed to bring these back to Winchester City and Hampshire County Councils as they develop their responses to COP26 and the climate crisis.
The event was hosted by one of the partners in the event, the University of Winchester, which offered the use of its Business School free of charge for the Assembly.
Gavin Hunter, University of Winchester Chief Operating Officer, said: "The climate crisis is the single largest threat faced by humanity, and it impacts young people. As the University for sustainability and social justice, the University is committed to championing global and local positive change and to making a difference. We are proud to have played an important part in engaging a diverse group of young people to think about how we can tackle climate change together in Winchester."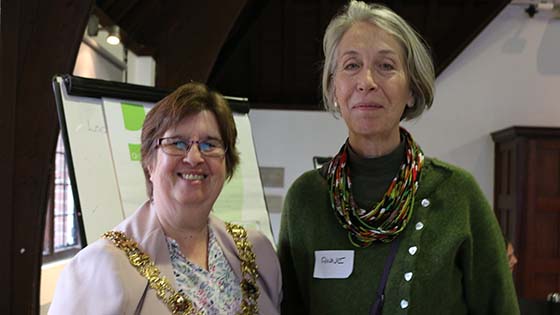 Mayor of Winchester Cllr Vivian Achwal and Cllr Anne Weir
The Mayor of Winchester District Cllr Vivian Achwal said: "The future of our young people is the focus of my mayoral year. Nothing is more important to them than tackling the climate crisis to secure a sustainable future for them. I hope this assembly is the first of many more to engage directly with young people and understand how they want to build a resilient future."
Winchester City Councillor Anne Weir, one of the co-convenors of the Assembly, said: "Young people's voices aren't heard in our local decision making. This Climate Assembly has provided them with a real platform to debate and create practical ideas for accelerating our transition to zero carbon in Winchester District. This event has shown that deliberative assemblies will be a feature of our democracy in the years ahead."
Stuart Evans, co-chair of the University of Winchester student Sustainability Society and a co-convener of the Clmate Assembly, said: "Our generation is appalled and shocked by the lack of response to the climate emergency that threatens our future. This has been highlighted by the same ineffective rhetoric to be released at COP26 by the leaders who decide our fate. We will not stand idly by and lie complicit while the world burns. We must confront the climate crisis united in our actions, challenge political leaders to take the necessary bold and necessary transformational steps, and hold those powers accountable to the promises they make.
"The purpose of this Assembly was to send a singular, powerful message to local decision makers. The climate crisis is the single largest threat to be faced by humanity - especially for young people. As a society, we need only give a small push to get the snowball rolling, to really see a change of a positive magnitude, greater than any within living memory. We hope that the outcome of this deliberative process will be a pivotal part of that change."
Laura Baker, a participant and volunteer with the Climate Assembly said: "The assembly gave us space to hear from a range of professionals operating locally and internationally. With the expert knowledge we debated with other young people about how key challenges should be approached by our local leaders. Giving young people a voice is so important so we can shape the world we want to grow up in."
The Winchester District Young Persons Assembly was supported by: The Mayor of Winchester; University of Winchester; Southern Policy Centre, Winchester Together for our Planet and The Climate Coalition.
Press Office | +44 (0) 1962 827678 | press@winchester.ac.uk | www.twitter.com/_UoWNews
Back to media centre