March 2019 at the University of Winchester
1 Apr 2019
In a busy month at Winchester, our students danced the day away for World Down Syndrome Day, a future Winchester student reported for BBC News on disability at university and we shared our successes in student welfare and sustainability with Liberal Democrat leader Sir Vince Cable MP.
Read our highlights from the month below.
Disability at university topic of future Winchester journalism student's report for BBC News
Future University of Winchester BA (Hons) Journalism student, Ben Morris, investigated how Winchester and other universities cater for disabled students in a report for BBC News.
In his insightful report, Ben, who has spinal muscular atrophy, chatted to our Senior Disability Advisor Paul Watson about what universities are doing to welcome students with additional needs. He also met Oliver Pool from disability support organisation AskJules to find out how they help young adults make the most of university.
Ben also highlighted that the University has wheelchair accessible routes and lifts and showed off our fully accessible newsroom, stating that these were important factors in his decision to study at Winchester.
Ben's report was broadcast on BBC Points West.
Winchester students took part in 21-hour DanceAThon for World Down Syndrome Day
Our BA (Hons) Choreography and Dance students danced across Winchester city as part of a 21-hour DanceAThon to raise awareness as part of World Down Syndrome Day.
The event kicked off at 5am with students Becca, Elena and Esther in our Chapel on the King Alfred Quarter. They were then joined by representatives from Blue Apple Theatre, The Point Eastleigh and Winchester Go LD as they danced through Winchester, visiting Winchester Cathedral, St Lawrence Church and Winchester Discovery Centre among others. University Vice-Chancellor, Professor Joy Carter CBE DL, joined in for the afternoon. The day concluded with a dance party in University's Paul Chamberlain Building, which continued until 2am the following day.
Well done to all who took part in this amazing feat of endurance!
Liberal Democrat leader Sir Vince Cable MP praises Winchester's commitment to student welfare and sustainability in University visit
Sir Vince Cable MP, leader of the Liberal Democrats, found out about our pioneering student support and environmental initiatives in a fact-finding visit to the University.
During the visit, Acting Director of Student Services Lesley Black and members of her team showcased the support offered to students as part of the University's mental health action plan. Sir Vince also found out about some of the recycling projects the University has undertaken to reduce waste on campus from Environmental Officer Liz Harris and our students.
Commenting on the visit, Sir Vince said: "What I saw today was some really innovative work around environmental initiatives and saving on plastics. The University has a very deep commitment to environmental values – it's pretty impressive. There is also a very committed team who are doing wonderful work giving one-to-one support to students with mental health issues."
Winchester Poetry Festival sets up base at the University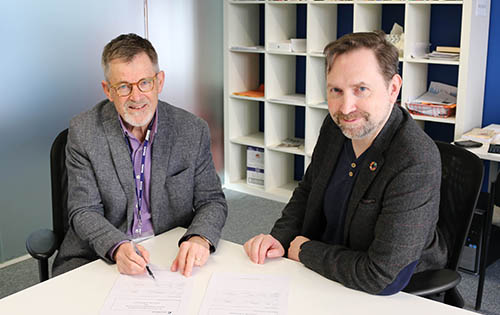 Winchester Poetry Festival is relocating its office to the University of Winchester. The move follows the signing of a five-year partnership last year to strengthen the cultural life of the city and encourage more participation from young people.
"It's brilliant to welcome the Winchester Poetry Festival to the heart of our campus," said Professor Alec Charles, Dean of the University's Faculty of Arts. "This is a fantastic opportunity for our students to gain valuable experience supporting the organisation of these excellent literary events in the heart of Winchester – and for us to support this excellent work in promoting the pleasures of poetry."
Student Law Society wins award for best event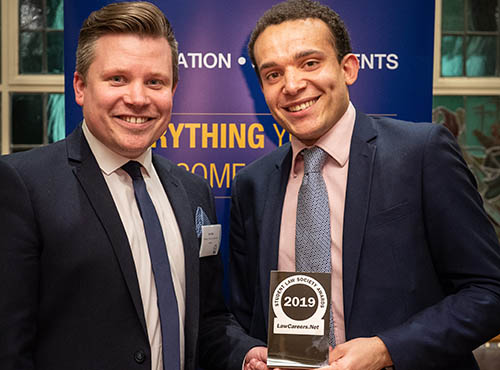 The University of Winchester Student Law Society won the Lawcareers.net Student Law Society award for Best Careers Event.
Charley Dugdale, LLB (Hons) Law student and President of the Winchester Student Law Society, said: "Despite having a committee of just three people, a minimal budget and facing incredible competition from 38 other societies, we're delighted that the Winchester Student Law Society has won this award for our student-led and student-delivered October Law Fair. We couldn't be prouder!"
We welcomed a bus that uses chess to battle loneliness and isolation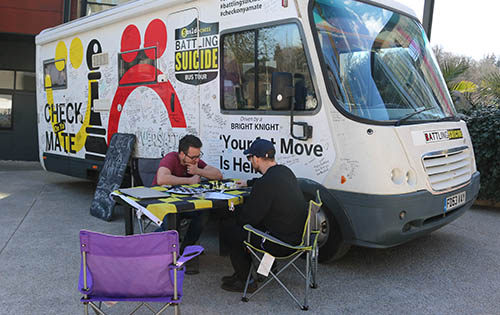 The 5asideCHESS Battling Suicide Bus parked up on the Stripe Plaza to help raise student awareness of mental health issues in a one-day event.
Visitors to the bus were encouraged to connect with their peers by playing a simplified game of chess. They were also invited to write positive and in memoriam messages on the bus itself.
The University of Winchester now aims to set up a regular 5-a-side chess peer support group using chess boards and materials donated by the 5asideCHESS team.
We helped inspire the next generation of peacemakers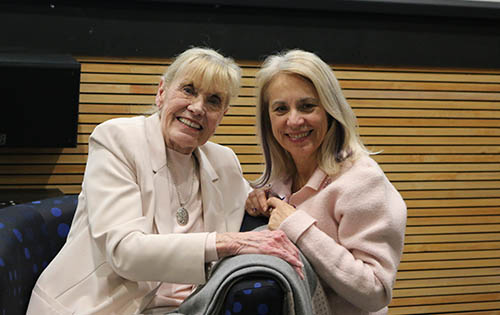 Young people from across the country were inspired to take action when the 5th annual PeaceJam UK youth conference took place at the University.
During the two-day event, Nobel Peace Laureate and co-founder of the Community of Peace People Betty Williams energised the young people with her stories of creating change in Northern Ireland and across the world. Conference attendees also took part in a number of activities to help them become global citizens and make a difference in the community.
The University of Winchester has hosted PeaceJam UK for the past five years as part of our commitment to empowering others to change the world.
Blog highlight – Five minutes with John Barnes MBE
To mark Elimination of Racial Discrimination Day, we spoke to former footballer and manager John Barnes about racism in sport and more widely in society. In his interview, he shares his belief that discrimination is rooted in misconception and he advocates that we all examine our own personal prejudices to tackle racism.
Back to media centre