March 2020 at the University of Winchester
1 Apr 2020
March has seen unprecedented and challenging times on a global scale due to the coronavirus pandemic. Recent Government guidance has led to a change in University life as we knew it, for the safety of those around us.
As a University, we continue to adapt to these unexpected changes to the best of our ability while reflecting on projects and activities from earlier in the month.
Responding to the Coronavirus outbreak
The wellbeing of our students, staff and global community is our number one priority as the world tackles the challenges brought about by the outbreak of coronavirus (Covid-19). In line with the latest Government advice, we have implemented several practices to safeguard our whole community; while continuing to support our students and staff at this uncertain time.
To keep our community safe and well, we have launched a Coronavirus FAQs page providing answers to common questions; including on travel and practicing good hand and respiratory hygiene, as well as details of how to access support if needed.
Please click here to read our full statement outlining the measures we are taking.
Current students and staff should also regularly check the intranet for the latest updates, information and wellbeing support.
The Positive Pandemic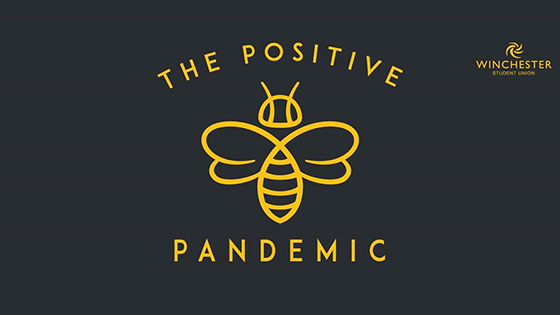 The Winchester Student Union have launched the Positive Pandemic on Facebook. The Sabbatical Officers have created the page for anyone who is currently self-isolating, social distancing or generally needs a boost. The space allows students to share positive news, practical wellbeing tips, home workouts, online games, quizzes and recipes - to make everything seem a little more positive.
Scouting Out 'Who Dunnit'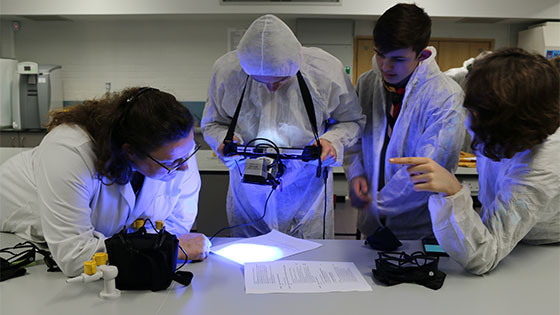 Over twenty Winchester District Explorer Scouts aged 14-18 years from the Beacons Unit, based in Colden Common, took part in a murder mystery 'who dunnit' evening in the our state-of-the-art Forensics Laboratory, which features a range of industry standard equipment.
The Scouts became real life forensic investigators solving crimes, at this special event inspired by the popular board game Cluedo. It was organised and run by University Researcher and Laboratory Technician and volunteer Scout Leader, David Ashby.
David explained: "These forensic evenings provide a safe learning environment for both Scouts and Explorer Scouts to learn some practical forensic skills in a unique way, getting a taste of investigative forensics, which engages curious minds. It's an excellent way to inspire young people and help support the community flourishing through unique, practical, hands-on learning experiences."
You can read all about the event here.
University Mental Health Day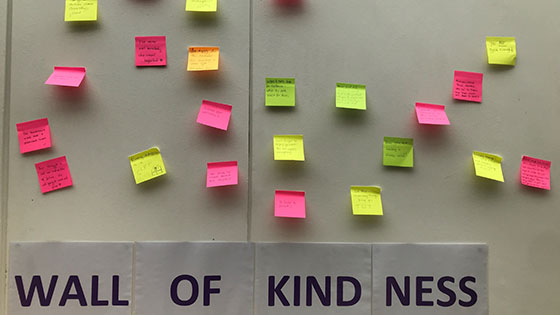 For University Mental Health Day, we hosted a range of activities to raise awareness of the importance of caring for your mental health and wellbeing. Activities included: a wall of kindness (as pictured above) to provide inspirational messages for others; a health talk about the beneficial impact of exercise on mental health with Dr Helen Walters from the Friarsgate Practice; mental wellbeing drop-ins with Student Services and a visit from Scout, the Cockapoo Therapy Dog.
To support students and staff with mental health issues, which may be more difficult to deal with during this stressful time, there is email helpline for students alongside daily wellbeing tips available on the intranet. If you are a student struggling with mental health, you can contact mentalwellbeing@winchester.ac.uk. Staff, please access the Care First helpline 0800 174319 for free confidential support available 24/7.
Heritage for Heroes: Soldiers dig deep to defeat their demons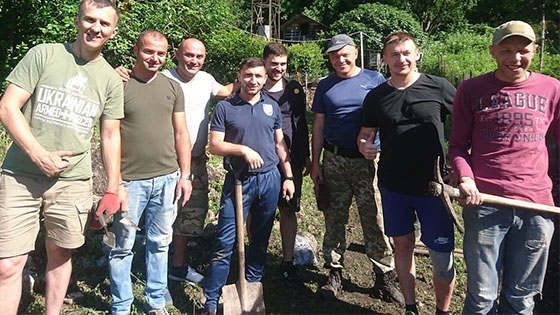 Dr Paul Everill, Senior Lecturer in Archaeology, was recently interviewed in the Times about his research into the benefits of archaeology for veterans. His research indicates that veterans can use these skills in archaeology when returning from Iraq and Afghanistan with mental and physical trauma, to boost their mental health.
You can read the full article here; or take a look at our work with the multi-national rehabilitation programme here.
Sports Relief Challenge for University chef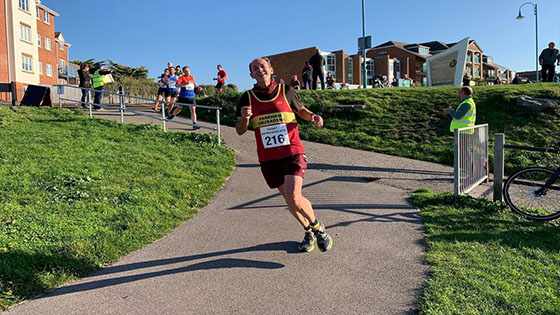 This month for Sport Relief, chef Mark Brooks from the University Catering Team ran 35 miles around Winchester, raising a total of £520 - exceeding his initial target.
Mark completed the Sports Relief challenge in 5 hours and 45 minutes and ran a total of 35.92 miles. The run started from the University where he then travelled on foot to local landmarks around Winchester, before the final stretch back to campus.
Blog highlights: Reflecting on health and wellbeing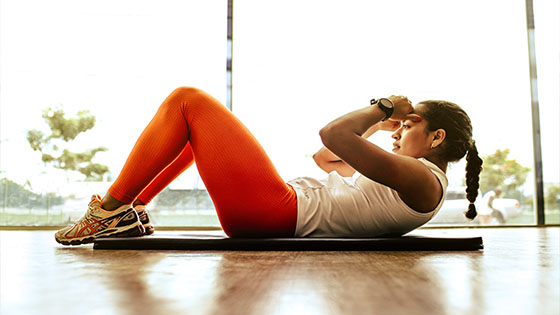 If a daily workout with Joe Wicks isn't for you, check out the insight provided by our sports experts on how to stay active during the coronavirus lockdown here.
There are also some tips on eating healthily featured in The Conversation this month, as Visiting Professor to the Health and Wellbeing Research Group Shireen Kassam highlights Five Surprising Benefits of a Plant-based Diet.
Press Office | +44 (0) 1962 827678 | press@winchester.ac.uk | www.twitter.com/_UoWNews
Back to media centre