Scouting out 'who dunnit' at the University of Winchester
4 Mar 2020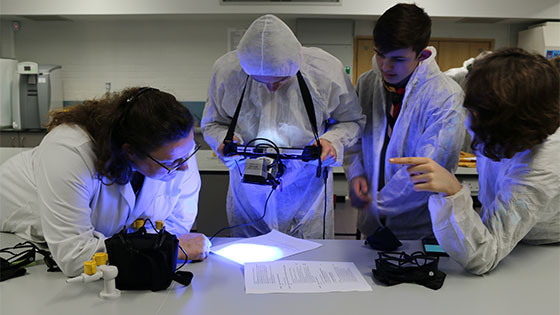 A group of Winchester District Explorer Scouts became real life forensic investigators solving crime at the University of Winchester, at a special event inspired by the popular board game Cluedo.
Over twenty Explorer Scouts aged 14-18 years from the Beacons Unit, based in Colden Common, took part in a murder mystery 'who dunnit' evening in the University's state-of-the-art Forensics Laboratory, which features a range of industry standard equipment.
The event was run by scout leader and University of Winchester researcher and laboratory technician David Ashby.
"The session is a bit like a murder mystery evening," explains David. "We read them a scenario, outlining that a 'body' has been found. The Explorer Scouts then analyse the scene as Hampshire Constabulary's Crime Scene Investigation team, wearing scene suits to get in to their roles."
The case under investigation was the recent disappearance of the fictional Professor Peter Ock, who has been declared a missing person. Three suspects – his wife, a porter and a cleaner, all from the university – were in the frame.
The sessions featured three activities: first, an examination of the 'crime scene' with the deceased in place and the scene undisturbed for analysis. Forensic evidence was planted for the Explorer Scouts to find.
The Explorer Scouts then interviewed all three suspects based on background information about their lives and careers. Finally, they used their Forensic Investigation skills in the Lab: looking at finger prints, using liquid samples to test for chemicals and gunshot residue, analysing documents recovered from the scene for hidden information and messages using Forensic multispectral light sourcing, and analysing a copy of the mobile phone records and employment history of the three suspects and victim. At the end of the session, the Explorer Scouts were asked to identify who the murderer was and why, based on the evidence they uncovered, before the criminal was revealed.
David explains: "These forensic evenings provide a safe learning environment for both Scouts and Explorer Scouts to learn some practical forensic skills in a unique way, getting a taste of investigative forensics, which engages curious minds. It's an excellent way to inspire young people and help support the community flourishing through unique, practical, hands-on learning experiences.
"It's also a chance for local scout groups to find out what it's like to study at university level, with lots of scouts who have taken part in these sessions coming back to the University for both work experience and to study here. These sessions are also tailored to help scouts fulfil badge criteria, as well as learn and perform as part of a team."
Louis, Winchester Explorer Scout and Young Leader, said: "I have undertaken these forensics nights for almost five years and each time we come back, I have learnt even more than last time. These sessions are unique to our District and provide an incredible insight into a very exciting potential career in forensics and policing, and are also great fun."
After running the sessions for four years, David has now developed a large-scale session, which ran for over 100 scouts on a District Scout Camp to Pinsent Scout Campsite just outside Winchester last year. This project was so successful, scout groups from across the country and world have since been in contact to find out more about the sessions and how to run their own similar event.
The University's Forensics Laboratory which hosted the event was formally opened in September 2019 by actor David Suchet CBE, who portrayed Agatha Christie's fictional detective Hercule Poirot in the popular adaptation of famous novel series.
Press Office | +44 (0) 1962 827678 | press@winchester.ac.uk | www.twitter.com/_UoWNews
Back to media centre