University of Winchester archaeologists support multi-national rehabilitation programme for wounded military veterans in Georgia
4 Nov 2019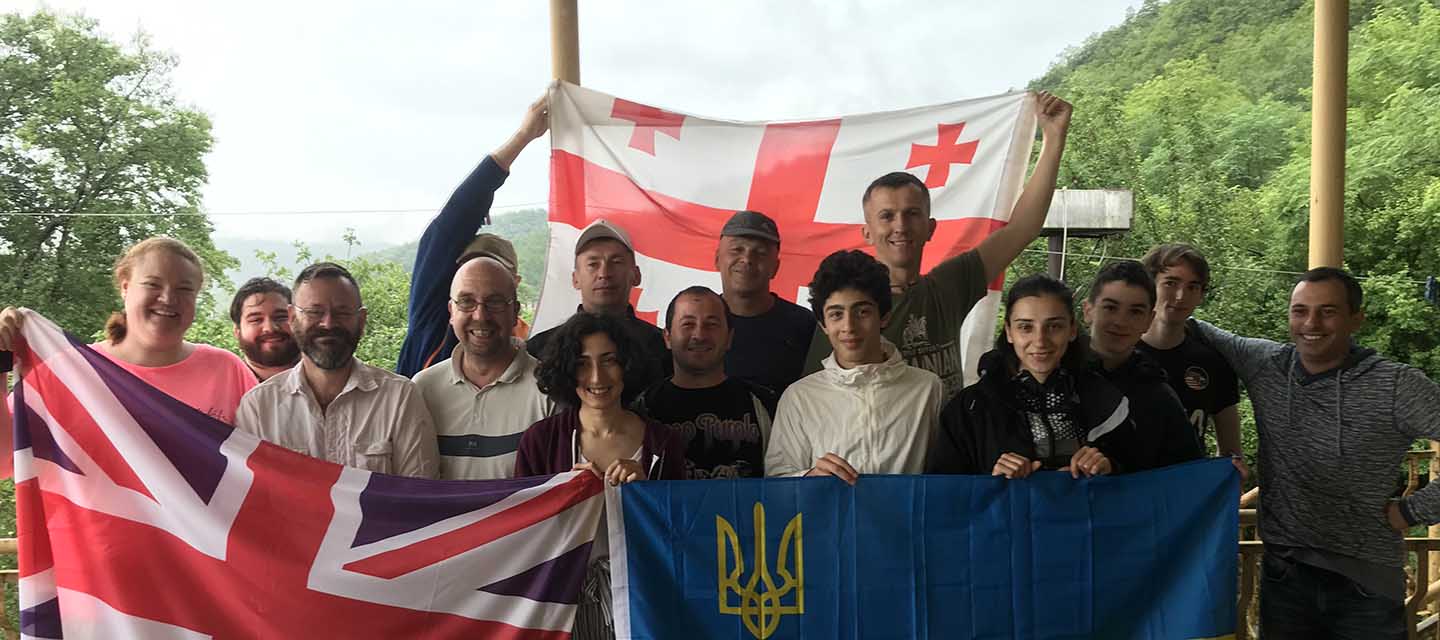 Members of the University of Winchester Department of Archaeology, Anthropology and Geography have been working alongside veterans of conflicts in Georgia, Ukraine, and Afghanistan, building on the success of the Heritage for Heroes scheme - a pioneering joint initiative established by the University and the charity Help for Heroes which enables British former service personnel to study archaeology.
The programme was conceived in 2016 by Dr Paul Everill, Senior Lecturer in Archaeology at the University, and Giles Woodhouse, an archaeologist and retired senior army officer, who at the time was Head of Recovery South at the charity's Tedworth House Recovery Centre in Wiltshire.
Heritage for Heroes was inspired by the success of a Ministry of Defence initiative, Operation Nightingale, which first employed archaeological fieldwork to aid the recovery and skills development of service personnel and veterans injured in conflict. British and Georgian veterans first worked together in 2017 as part of the Anglo-Georgian Expedition to Nokalakevi, co-directed by Dr Everill, when this approach had only previously been undertaken in the UK, USA, Belgium, France, and Cyprus.
Financial and administrative support from the National Agency for Cultural Heritage Preservation of Georgia and the Georgian Ministry of Defence has enabled the scheme to grow in the former Soviet republic of Georgia, where the need for innovative recovery and rehabilitation pathways for veterans is particularly acute. As well as suffering casualties in the Russian invasion of 2008, Georgia is the largest non-NATO contributor, and the largest contributor per capita of any country, to the mission in Afghanistan.
Earlier this year, twelve veterans - from Georgia, Ukraine and Estonia - lived and worked alongside the staff and students of the expedition over the course of the month-long excavations in Nokalakevi, an historically important early Byzantine site with defensive fortifications.
Veterans reported positive outcomes from their involvement, including the enjoyment derived from working alongside archaeologists at an important historic site; the pleasure of new friendships, particularly with those who shared experience of combat; and even the lessening of symptoms relating to post-traumatic stress disorder.
"It has been an incredibly humbling experience to work alongside men with a range of physical and mental injuries, and to see them benefit from the experience," said Dr Everill.
"In some cases there seemed to be an improvement with each passing day, and the increasing good humour and 'banter' was often evident regardless of language barriers. They were all remarkable individuals. I have always found my own pleasure in archaeology, and am lucky to have made a career out of a subject I find so rewarding, but it is wonderful to be able to share it with people who are discovering the joy of the discipline, particularly in the camaraderie and teamwork of an excavation."
Justin McKenzie-Smith, British Ambassador to Georgia and regular visitor to the team in Nokalakevi, said: "The bonds connecting the British and Georgian armed forces are at the heart of the special friendship between our two countries. Working together to support our veterans is a vital part of that relationship. I have been impressed - and moved - to see how this initiative supports the wellbeing of British, Georgian, Estonian and Ukrainian veterans, building new confidence and skills. Nokalakevi is a special place, steeped in history and legend. It is wonderful to see it working its magic on veterans, staff and students and, in doing so, deepening still further the ties between Britain and Georgia."
Separately, the first results of Dr Everill's interdisciplinary research on the wellbeing benefits of archaeology co-authored with Dr Karen Burnell, a psychologist from Southampton Solent University, and Richard Bennett, a former Royal Marine and Director of Breaking Ground Heritage, will be reported in the academic journal Antiquity later this year. The next phase of the team's research is being supported by a grant awarded by the Society of Antiquaries of London, and will take place alongside a PhD project which will examine the wider role of heritage, particularly museums, in supporting the recovery of veterans. Further funding has recently been secured from the MARCH Mental Health Network.
The University of Winchester has an ongoing commitment to helping military personnel, veterans and families. It has signed the Armed Forces Covenant and is a member of the Universities in Support of Wounded, Injured and Sick Service Personnel (UNSWIS) network. Earlier this year, the University was awarded the Ministry of Defence Employer recognition Scheme Silver Award in recognition of its commitment to being an Armed Forces-friendly employer. It also works proactively to raise aspirations and support the progression of military service children into further and higher education.
Photo above: Georgian and British members of the expedition welcome Ukrainian veterans to Nokalakevi.
Press Office | +44 (0) 1962 827678 | press@winchester.ac.uk | www.twitter.com/_UoWNews
Back to media centre