Winchester research roundup March 2019
29 Mar 2019

This month's research roundup highlights new research into food hunger, animal welfare after Brexit and privacy enhancing technologies in data analysis by Winchester academics, as well as research funding, awards and conference presentations.
University of Winchester analysis shows that Brexit poses substantial threats to animal protection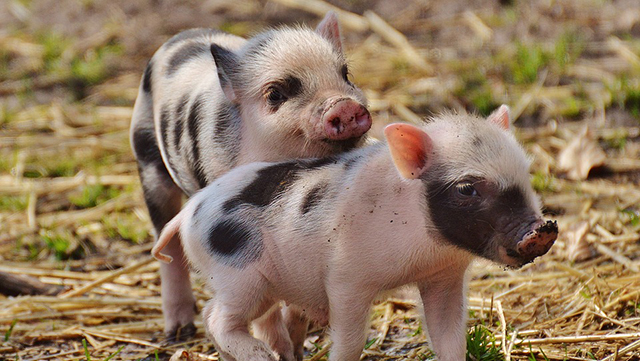 A new analysis by Winchester animal welfare expert Dr Steven McCulloch, which appplies animal welfare impact assessment to the threats presented by the UK's departure from the EU. argues that Brexit poses substantial threats to weaken animal protection in the UK, EU and internationally.
"A major threat of Brexit is the import of meat and dairy products to the UK raised in lower welfare standards from nations such as the United States," said Steve, a veterinary surgeon and Senior Lecturer in Human-Animal Studies.
The most substantial threat, however, may be the loss of political influence of the UK within the EU and its resultant impact on animal protection in the EU and internationally. The analysis is published in the journal Animals. Find out more.
Follow Steve on Twitter.
Community hunger interventions focus of international research study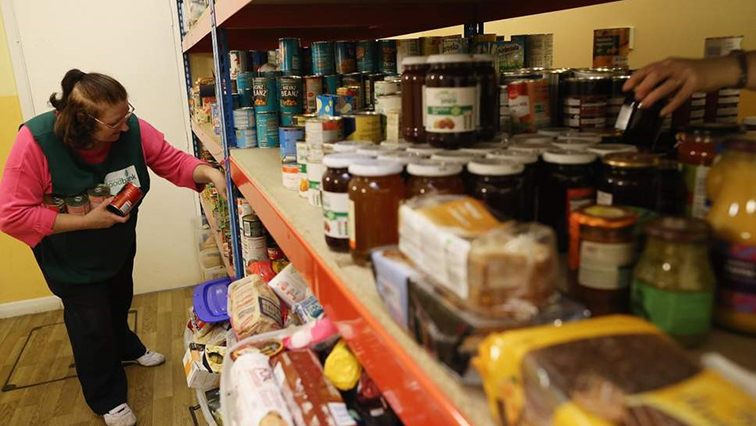 Dr Martina Hutton, Senior Lecturer in Marketing, has led the UK component of an international collaborative research study (UK/USA) on community hunger interventions.
The team sought empirical evidence through the use of inductive case studies about the challenges faced by social enterprise organisations (SEOs) across the UK and USA and the vital practices that make them successful in providing a?ordable access to healthy food in under-served communities.
The study developed a framework to help identify key practices that enhance the success of community-based SEOs working to solve hunger. The researchers suggest that SEOs should scale deep, or in other words, achieve greater impact by securing food access for people living in a specific community, rather than to only consider scaling up.
"Hunger is a complex and progressive experience bound up with ill-being and economic constraints. It is a profound injustice in affluent societies such as the UK that people have problems accessing healthy and affordable food on a regular basis," said Dr Hutton.
Involvement in the study evidences Winchester's commitment to the Sustainable Development Goals (SDG2 Zero Hunger). Winchester was the only UK institution involved in the study, with US collaborators from the Universities of Wisconsin; Vanderbilt; Southern Alabama; Denver; Florida State; Wayne State; Michigan, and Hunger Task Force US, a non-profit anti-hunger public policy organisation.
"Food Access for All: Empowering Innovative Local Infrastructure" is published in the leading international journal, the Journal of Business Research.
Winchester expert in information rights contributes to report on privacy enhancing technologies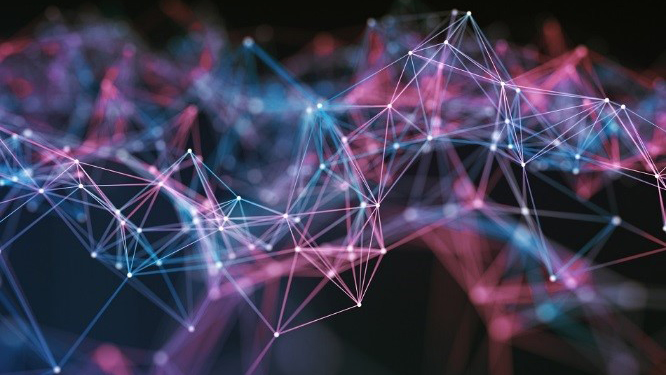 Marion Oswald, Senior Fellow in the Department of Law and Director of the University's Centre for Information Rights, has been part of the Royal Society working group on privacy enhancing technologies (PETs), alongside Professor Alison Noble OBE and others, helping bring a legal perspective to the discussions. The report, which was launched this month, sets out the current use, development and limits of PETs in data analysis. Read the report online.
Follow Marion on Twitter.
Award for Winchester health and wellbeing researchers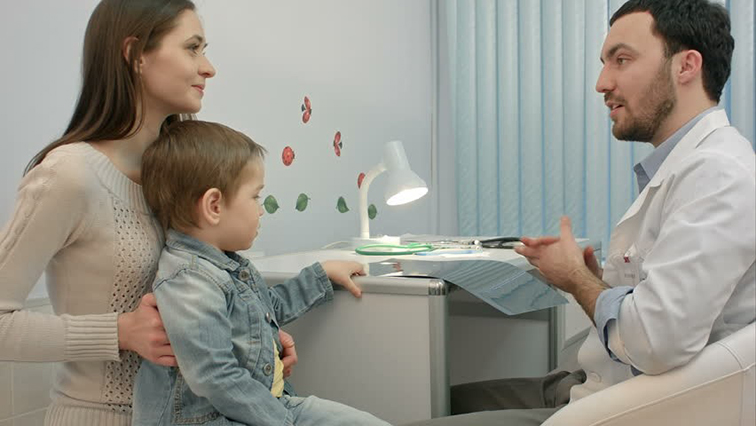 A paper co-authored by Dr Christine (Kit) Tapson and Dr Amanda Lees, researchers in the Centre for Arts as Wellbeing, has been named Best Published Paper 2018 by the International Self-Care Foundation (ISF) and the SelfCare Journal.
'A qualitative evaluation of parents' experiences of health literacy information about common childhood conditions' (SelfCare 2018;9(1)1-15) evaluates resources intended to provide information to parents on common childhood ailments. It is important to understand how best to communicate with these groups and the ways they will use the information provided.
The judges said that, although small, the study yielded findings with practical consequences for how information is delivered to parents and with relevance to others designing health information resources. The third co-author is Sanjay Patel, Southampton Children's Hospital.
Follow Amanda on Twitter.
Archaeology research projects awarded funding from learned society
Congratulations to Dr Simon Roffey, Reader, and Dr Paul Everill, Senior Lecturer, both of the Department of Archaeology, Anthropology and Geography, who have separately secured funding from the Society of Antiquaries for individual research projects.
Simon is undertaking research and fieldwork on medieval hermits, which will result in a book published by Routledge titled In Search of Solitude: the archaeology of hermits and hermitages in the medieval period and beyond.
Over 750 hermitages are recorded in Britain in the medieval period, yet to date there has been no comprehensive study of these important monuments. Simon's research will for the first time provide an archaeology of medieval hermitages and anchorite cells, examining a diverse range of archaeological and architectural evidence for the eremitic or solitary life. This evidence includes caves, chapels, ruined bastions, churchyard cells, lighthouses, bridge hermitages, islands and mountain and hill-top retreats. Simon's study is informed by over 25 years of personal involvement in both western and eastern contemplative traditions - Simon is also Buddhist Chaplain here at the University.
Paul's is titled Archaeology for improved wellbeing among military veterans and will see the systematic collection and analysis of qualitative data from participants of veteran-focused archaeological initiatives, in order to assess the strengths, weaknesses, and potential risks of using archaeology as a vehicle for the recovery/rehabilitation of military veterans.
Archaeological fieldwork has provided an innovative setting for helping veterans recover from traumatic experiences since the first Operation Nightingale excavations in 2011. Building on this, and seeking to open up longer-term opportunities and benefits, in 2016 the University offered the UK's first fee-waiver studentships to veterans wishing to study archaeology. Paul has led the Winchester Heritage for Heroes initiative and worked closely with psychologists and the veteran community to analyse the first standardised quantitative data to be collected.
Celebrating ten years of the Tales of Things research project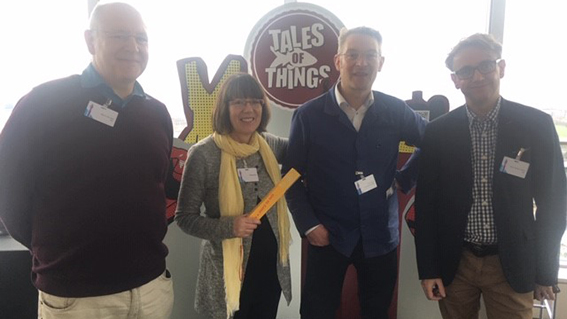 Maria Burke, Professor of Management, University of Winchester Business School, attended a showcase event held by the Engineering and Physical Sciences Research Council (EPSRC) to celebrate the success of its Digital Economy theme launched in 2009.
Maria (pictured above with fellow researchers) is a member of the TOTeM (Tales of Things and electronic Memory) Digital Economy research project team, which was chosen as one of 10 research projects funded through the theme to exhibit their activities. The project aims to find a new way of preserving social history, through people's memories. As more importance is placed on the objects that are already part of people's lives, it is hoped that new uses for old objects may be found which will encourage people to think twice before throwing something away.
The previous day, Maria gave a presentation titled: The direction of research funding: investing in impact at the Chartered Association of Business Schools Annual Research Conference.
Inaugural lecture explores insignificance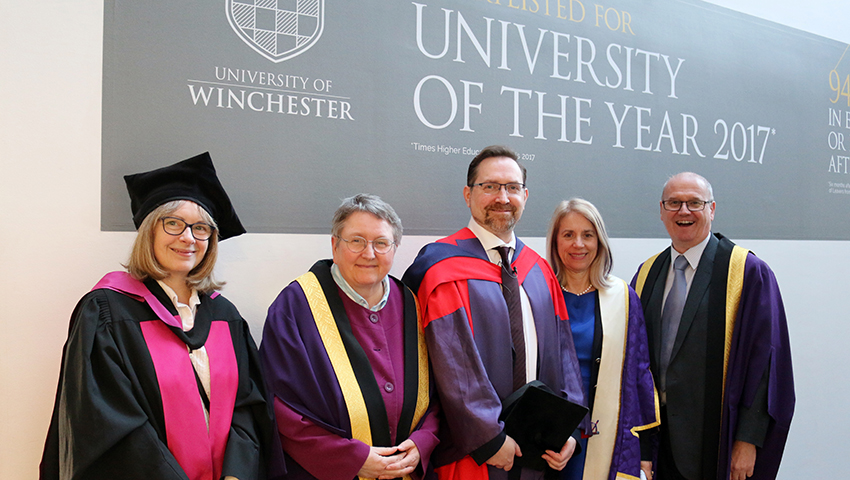 The significance in the seemingly insignificant was the focus of an inaugural lecture by Professor Alec Charles, Dean of the Faculty of Arts this month. His entertaining talk covered fake news, rogue squirrels and the way that social media can make a meaningful impact in the wider world. Alec's lecture will be available to enjoy online soon.
Alec is pictured above (centre) with (l to r): Director of Research and Knowledge Exchange, Professor Kate Adams; First Deputy Vice-Chancellor, Professor Elizabeth Stuart; Vice-Chancellor, Professor Joy Carter, and Deputy Vice-Chancellor, Professor Neil Marriott.

Follow Alec on Twitter.
Watch University of Winchester inaugural lectures on our YouTube channel.
Blog highlight: Insignificance
Before his inaugural lecture, Professor Alec Charles considered the value we might find in the meaningless phenomena which fill our lives in a post on the University blog. Read the blog post.
Press Office | +44 (0) 1962 827678 | press@winchester.ac.uk | www.twitter.com/_UoWNews
Back to media centre