Catered accommodation
Catered accommodation
We have two halls of residence available for students who have a preference for catered accommodation:
They are located on our beautiful King Alfred quarter and are a 15 minute walk away from Winchester city centre.
Experience St Elizabeths hall from the comfort of your own home with our Virtual tour.
Each one of our catered accommodation is a traditional hall of residence, set up with rooms arranged along communal corridors with shared bathrooms and kitchenettes at various points. Many rooms boast beautiful views across Winchester and the South Downs and all rooms are larger than average single study bedrooms. Each room also has it's own vanity area, with washbasin and mirror above.
The catering element works on a part board basis and each resident has a flexible weekly catering allowance automatically loaded on to their Campus Card. Residents use their allowance to pay for items in the University catering outlets as they wish. Students are free to spend the allowance as they wish over the course of the week but should be able to cover approximately 14 meals a week. The kitchenettes in the halls provide facilities for cooking small meals and snacks.
There are a number of rooms adapted for hearing impaired students and Beech Glade is designated as a quiet hall.
Key facts
20 minute walk into Town

Unlimited internet access included

24/7 security team

Cleaning team for all communal and shared facilities (toilet and shower) areas.

Flexible weekly catering allowance automatically loaded onto your Campus Card to spend at University catering outlets.
Floor plan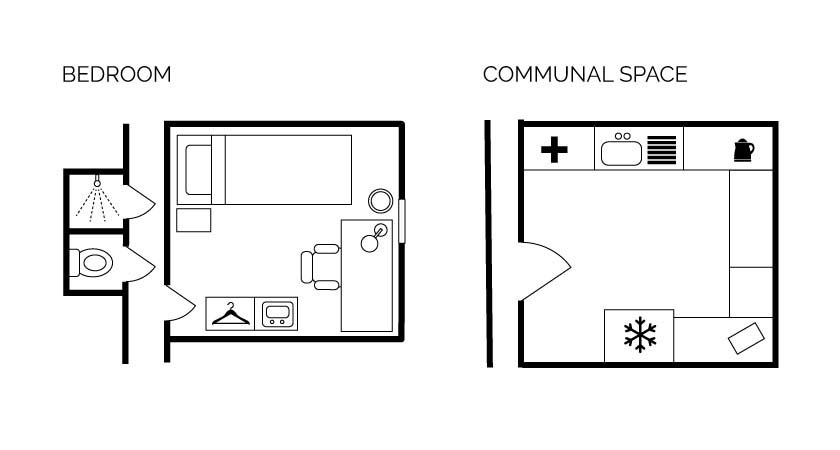 This is an indicative floor plan for a typical room in Catered Accommodation.
Living on campus
The Residential Management team
Student Housing Services is here to support students living on campus. The team comprises of 9 staff with the Housing Manager on campus holding the overall responsibility for both day to day operations and the promotion of a positive living environment for residents. There is also a dedicated team of staff and student staff who provide out-of-hours pastoral care in the residences so there is always someone on hand to assist or give advice.
Security and safety
Here at Winchester the safety and security of our students is paramount and the 24 hour Site Steward Team provide security emergency call out and pastoral care amongst other duties. Our Police liaison officer can also provide advice to students.
Cleaning and maintenance
The University's Campus Management team visit all on campus residences regularly and clean communal and shared facilities (toilet and shower) areas. We're sorry but our cleaners don't do the washing up!
The University has an in house Maintenance team that manage the day to day maintenance of our accommodation. Emergency cover out of hours is also provided.
Catering
Whether you live in catered or self-catered accommodation, there is always somewhere on campus to find something to eat and facilities are open to all students. We have a wide range of eateries providing meals inspired from all over the world, as well as traditional home cooked meals and a carvery throughout the week.
To help you with you budgeting, the University offers a number of catering packages, depending on your own individual needs and each one will load a weekly allowance onto your University Student ID card. Please note: the allowance is loaded weekly on Saturday morning and any remaining balance will be lost if not used that week.
If you are in catered accommodation, you will automatically be provided with Catering Package 2 on your University Student ID card as a weekly allowance to spend in catering outlets on campus.
If you are in self-catered accommodation, you are able to purchase one of the catering packages below. Alternatively, you may set up an online account with you University Student ID card so that you can add funds to be spent as required, with no specific weekly allowance.
For 2019/20, the Catering Packages are:
Catering Package 1
Cost per week: £46.50
Meals covered per week: 10
Cost for full contract: £1302
Catered Halls and Catering Package 2
Cost per week: £65.10
Meals covered per week: 14
Cost for full contract: £1822.80
Catering Package 3
Cost per week: £97.65
Meals covered per week: 21
Cost for full contract: £2734.20
All meals numbers quoted are dependent on the individual card holder's spending pattern and are only a guide as the card holder may spend the allowance in any outlet throughout the week as required.
Internet provision
The cost of data connection is included in the residence fees and wireless access is available in all University on campus accommodation providing students with flexible study options. For a guaranteed internet connection there are wired data points within all study bedrooms, although Wi-Fi is also available in all communal areas and most study bedrooms. The University has an ICT acceptable use policy which students will be advised of along with information on how to connect to and use the University network.
Other facilities
Students living on campus have a wide variety of facilities at their fingertips, just a few of which are mentioned here:
3 Launderettes placed to serve all accommodation areas
University library
University gym and sports facilities
Students' Union venue and other facilities
Student Union run Shops on the King Alfred and West Downs campuses
All heating, water, electricity, internet costs and basic contents insurance are included in the residence fees