West Downs student village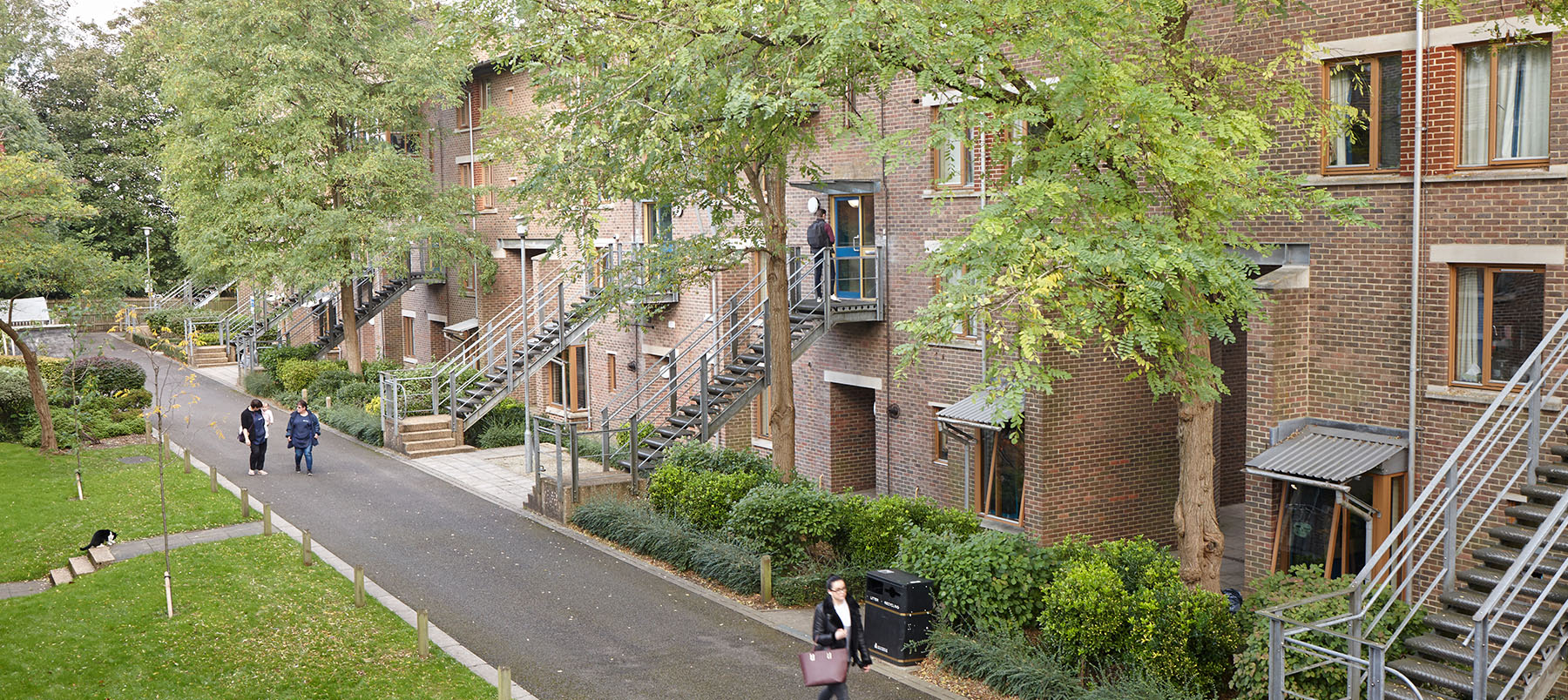 West Downs Student Village
Our inspirational West Downs Student Village, is a self-catered residence just a few hundred metres away from the King Alfred Quarter. Rooms are arranged in houses and flats of six to eight rooms. There is a mixture of ensuite and shared facility rooms and some one and two bedroom family flats.
En-suite rooms are single occupancy and feature their own shower, toilet and sink. Shared bathroom facility rooms are single occupancy and feature their own vanity unit (sink, mirror and cupboard). There are 2 separate showers and 2 separate toilets per house. We are also pleased to introduce 16 premium rooms at West Downs. These have been recently refurbished and include double beds and shared bathroom facilities.
Experience our West Downs rooms from the comfort of your own home with our Virtual tour.
Mature students are welcome to apply for University Managed Accommodation, we endeavour to set aside designated flats/houses for mature (24 and over) students across all our accommodation where possible.
Residents have the benefit of a shop, laundrette, cafe and 24-hour vending with the University Gym and catering outlets just a short walk away.
Unlimited internet access is included in the rent.
There is an exciting new development currently underway on the West Downs site, which will provide first class teaching and learning facilities. The University is working hard to keep any impacts to a minimum for student residents, students studying at West Downs, staff, visitors and local residents.
For further details about this development, please click here
Living on campus
The Residential Management team
Student Housing Services is here to support students living on campus. The team comprises of 9 staff with the Housing Manager on campus holding the overall responsibility for both day to day operations and the promotion of a positive living environment for residents. There is also a dedicated team of staff and student staff who provide out-of-hours pastoral care in the residences so there is always someone on hand to assist or give advice.
Security and safety
Here at Winchester the safety and security of our students is paramount and the 24 hour Site Steward Team provide security emergency call out and pastoral care amongst other duties. Our Police liaison officer can also provide advice to students.
Cleaning and maintenance
The University's Campus Management team visit all on campus residences regularly and clean communal and shared facilities (toilet and shower) areas. We're sorry but our cleaners don't do the washing up!
The University has an in house Maintenance team that manage the day to day maintenance of our accommodation. Emergency cover out of hours is also provided.
Catering
Whether you live in catered or self-catered accommodation, there is always somewhere on campus to find something to eat. The Food Hall offers a range of options including breakfast, traditional home cooked meals and the Deli Bar, as well as 'Tastes of the World' where you can ask the chef to cook just for you. You can order your favourite coffee and panini from the Learning Café or Café LIFE; a prime Buffalo burger or steak from the Gourmet Burger Company; or pizza from Cyber Italia to eat in or have delivered to your accommodation.
Students can use cash to pay for items or benefit from various discounts by using their campus ID card. For students in catered halls, their card is automatically topped up each week as part of their accommodation package. For all other students, the University offers a number of catering packages that students can purchase or they can set up an online account so they, or their family and friends, can add credit on an ad-hoc basis.
Internet provision
The cost of data connection is included in the residence fees and wireless access is available in all University on campus accommodation providing students with flexible study options. For a guaranteed internet connection there are wired data points within all study bedrooms, although Wi-Fi is also available in all communal areas and most study bedrooms. The University has an ICT acceptable use policy which students will be advised of along with information on how to connect to and use the University network.
Other facilities
Students living on campus have a wide variety of facilities at their fingertips, just a few of which are mentioned here:
3 Launderettes placed to serve all accommodation areas
University library
University gym and sports facilities
Students' Union venue and other facilities
Student Union run Shops on the King Alfred and West Downs campuses
All heating, water, electricity, internet costs and basic contents insurance are included in the residence fees