June 2019 at the University of Winchester
5 Jul 2019
As governments around the world declare a climate emergency, we've been focusing on what we can do as a university and as citizens to tackle the issue. We celebrate our sustainability achievements so far but pledge to do more. Plus, the much-awaited TV series, Killing Eve is back – and it got us thinking about why we find on-screen psychopaths so alluring. Read on to find out more.
Winchester announces new pledge as part of mission to tackle climate change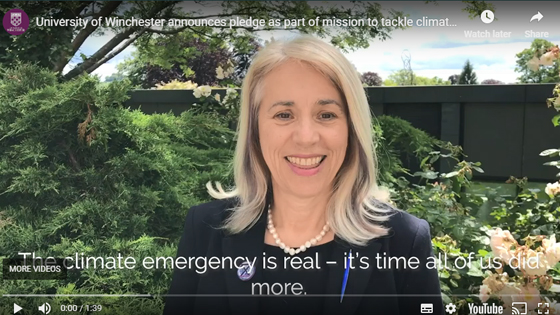 The University has pledged to eliminate all unnecessary single-use plastic by December 2020 and is calling on individuals and the higher education sector to stand up and take action to combat the climate crisis.
We are facing a global crisis and it's time we all did more," said Vice-Chancellor Professor Joy Carter CBE, DL. "As the University for sustainability and social justice, the climate emergency is at the forefront of our minds but, the higher education sector as a whole must work together to make the climate emergency a higher priority than it is at present."
Single-use plastic will be replaced where there is a viable alternative and the University is working with suppliers to ensure products are as sustainable as possible. A new zero-waste shop is also planned as part of the West Downs development on Romsey Road.
Earlier this year, the University of Winchester placed in the top 100 of the worldwide University Impact Rankings put together by Times Higher Education, recognising universities for their social and economic impact on society. Find out more.
Prestigious accreditation recognises University-Student Union sustainability partnership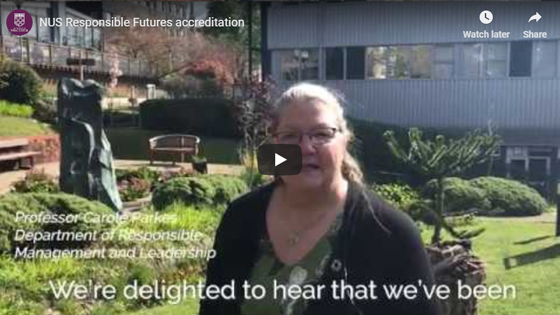 The University has been awarded the prestigious National Union of Students' (NUS) Responsible Futures accreditation for its commitment to embedding sustainability and social responsibility in its teaching and other activities.
The award recognises the partnership between the University and Winchester Student Union to promote education for sustainable development, helping students at Winchester to understand the sustainability challenges facing society and preparing them to become globally responsible citizens.
Carole Parkes, Professor of Responsible Management, who led the University's accreditation work, said: "The Responsible Futures accreditation underlines the strength of the partnership between the University and the Student Union in ensuring sustainability is embedded across the institution. Together we will be creating more opportunities for students to engage with real world issues as part of their time here." Find out more.
Footprint flag flown for human rights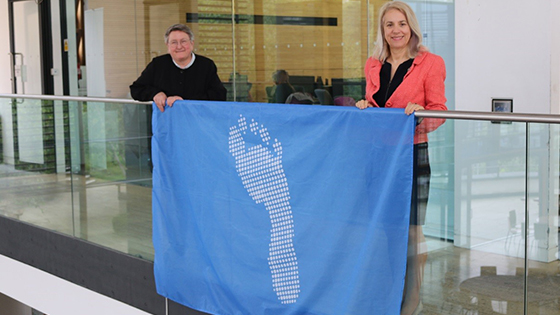 Photo: First Deputy Vice-Chancellor Professor Elizabeth Stuart and Vice-Chancellor Professor Joy Carter
A flag designed by Chinese artist and activist Ai Weiwei flew above the University of Winchester's West Downs Quarter on Romsey Road to celebrate 70 years of the United Nations' Universal Declaration of Human Rights.
It was part of the grassroots Fly the Flag campaign in which people were across the UK were encouraged to get involved to raise awareness and understanding of the importance of human rights.
The pale blue flag shows a footprint made up of white dots at its centre, symbolising anyone who has ever been forced to flee.
Professor Joy Carter, CBE, DL, Vice-Chancellor of the University of Winchester, said: "We are proud to have a long history of upholding people's rights, seeking justice and challenging prejudice. As the university for social justice and sustainability, our values underpin everything we do. This is reflected in our commitment to continually improve our business practices to ensure we consistently uphold human rights and our goal to ensure equality for all - at Winchester and globally. This was a great opportunity to be part of a moment of hope, togetherness and creativity." Find out more.
Blue Apple Theatre celebration marks first year of University of Winchester residency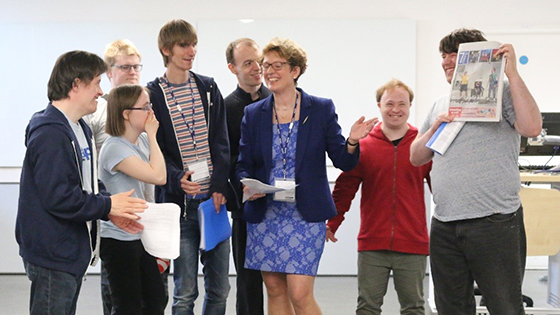 Photo: Georgiana Robertson, Chair of the Blue Apple Board, with performers at the celebration event.
The University and Blue Apple Theatre have celebrated the first anniversary of their five-year residency with a reception and excerpts from the theatre company's latest show, The Tempest.
Blue Apple, which has relocated its headquarters to the University, supports performers with learning disabilities to develop and present high-quality productions for the widest possible audience. It is now working with University staff and students across 15 departments, including dance, drama, creative writing and film production.
Reflecting on the past year, the company's general manager Simon Morris said that working in such proximity has real benefits: "Our mission is to support disadvantaged people in our society to develop their personal skills to a high level of achievement and that clearly chimes with the University's community-focussed outlook. Being in residence on campus means that we are now surrounded by like-minded creative thinkers and a huge amount of collaboration has been growing organically."
Read more about how Blue Apple is working with the University, and thoughts from Simon Morris including the development of research projects.
39th Winchester Writers' Festival gives emerging creative writers unprecedented access to industry experts
Emerging creative writers had the fantastic opportunity to meet commissioning editors and literary agents face-to-face at the University of Winchester Writers' Festival (14-16 June).
Hundreds of one-to-one appointments took place where writers working in all genres and at all levels of experience could pitch their ideas, receive constructive criticism on current projects, discuss publishing/marketing possibilities and get advice on writing challenges.
There were also intensive all-day courses and workshops and more than 30 talks, panels and presentations by authors, agents, scriptwriters, bloggers and poets.
Award-winning children's author Katherine Rundell delivered this year's Festival keynote. 'Why You Should Read Children's Books, Even Though You Are So Old and Wise' explored how children's books ignite, and can re-ignite, the imagination and how children's fiction, with its unabashed emotion and playfulness, can awaken old hungers and create new perspectives on the world.
Photo credit: Dominic Parkes
Refugees welcomed for Family Fun Day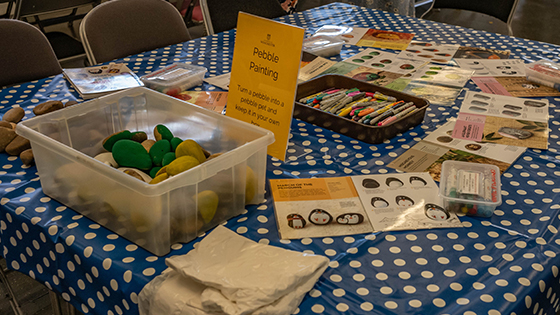 Refugee Week 2019 saw the University host our annual Refugee Family Fun Day, welcoming refugee families placed across Hampshire and the neighbouring counties. Led by the Widening Participation team and supported by a team of enthusiastic volunteers including staff, students and colleagues from the Rural Refugee Network, parents and older family members accessed free careers clinics with interpreters and wellness therapies, while children enjoy the many arts, crafts and sports activities on offer.
Later this summer we will be hosting our third annual Asylum Seekers and Refugees Summer School, welcoming around 30 young people onto our campus for a three-day residential experience. The residential provides an insight into higher education through taster sessions and focuses on the future, exploring their hopes and dreams through the creative arts. The participants get to meet our Sanctuary Scholars, hear their stories and find out how they overcame the many obstacles forced migrants face in reaching higher education.
June is a very busy month for our Access and Outreach activity and the team has hosted visits for over 1,100 primary and secondary school students from 31 local schools. This included hosting five Year 6 graduation ceremonies, with approximately 700 parents attending to celebrate their child completing Key Stage 2.
Blog Highlight: The return of Killing Eve inspires a look-at the best-known screen psychopaths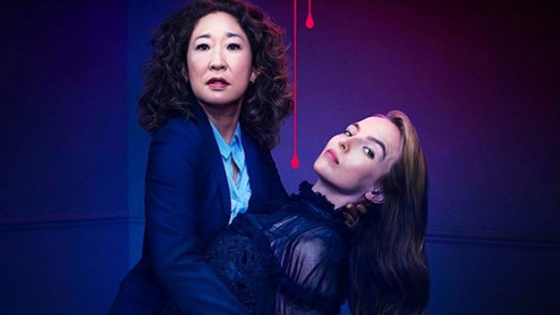 There's something appallingly attractive about film and television's most celebrated homicidal psychopaths (watched from the safety of a sofa at least).
Villanelle, from Killing Eve is one of many to have graced our screens over the years. But the interest in this latest incarnation has inspired Professor Alec Charles to look back at the best-known psychopaths of cinema and TV. What have they got in common – and what makes them so watchable?
Read the full blog for insights into the history of screen psychopaths – from Norman Bates to Hannibal Lecter – and discover why we find them so intriguing.
Photo credit: BBC
Press Office | +44 (0) 1962 827678 | press@winchester.ac.uk | www.twitter.com/_UoWNews
Back to media centre