Psychology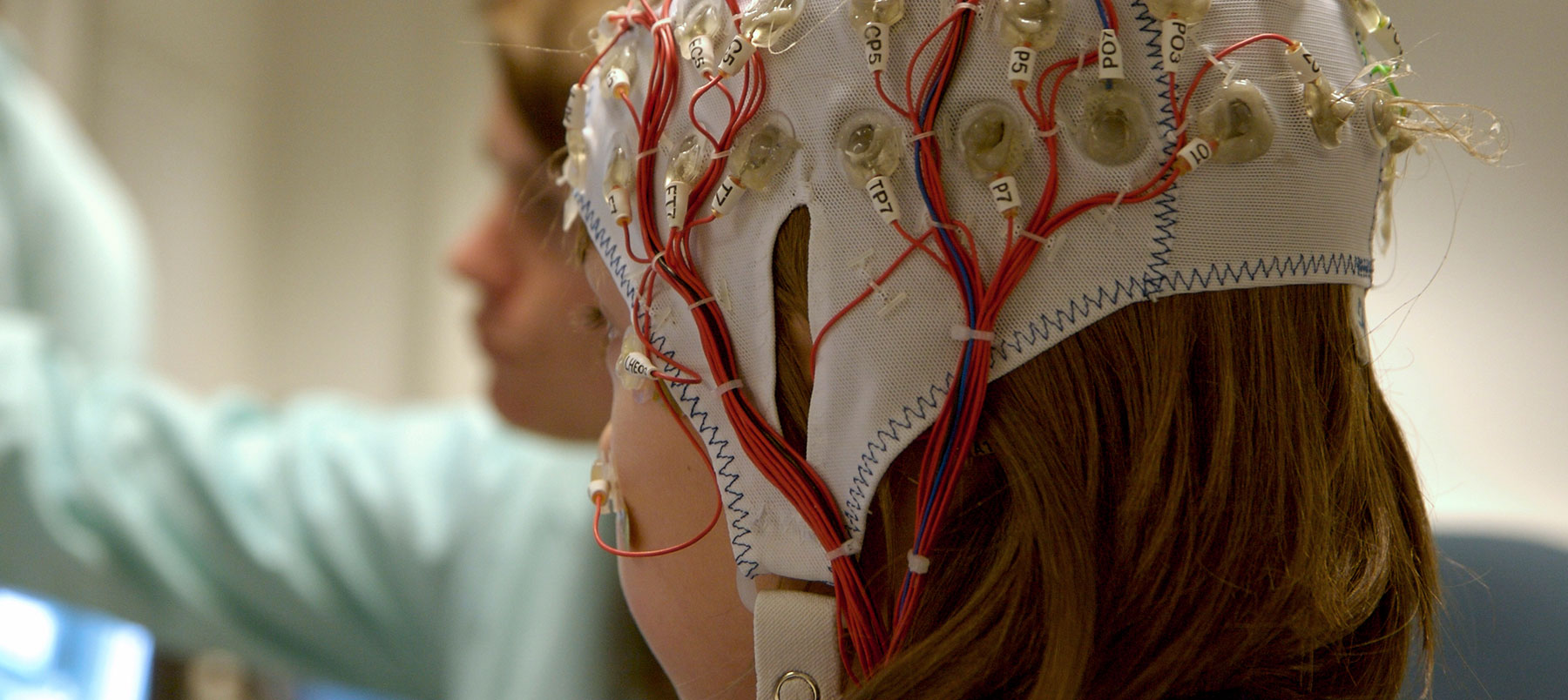 Welcome to the Department of Psychology
We are a forward-looking and energetic department combining excellence in learning and teaching with a strong and active research culture. We strive to provide the best educational experience for you and take pride in doing so within a friendly, intimate and supportive learning environment.
We offer a growing portfolio of Psychology programmes at undergraduate and postgraduate level. Our British Psychological Society-accredited degrees explore every aspect of human behaviour, from biological, social and developmental psychology to psychological disorders and cognitive neuroscience.
The department organises an annual seminar series with internal and external guest speakers. These events are open to all staff and students, and students are actively encouraged to attend.
Our research feeds directly into our teaching, ensuring a fresh, vibrant learning experience with academics who have an international reputation in their specialist area. What's more, there are opportunities for students to get directly involved with our research during your degree.
Our research activity is organised into four research groups and one research centre, focussing on Brain and Cognition, Social and Organisational Psychology, Childhood and Youth Psychology, Healthy Lives and Forensic and Investigative Psychology, and reflecting our research strengths. See below for more information on each.
Latest news: Psychology launches Knowledge Exchange Internships Scheme
The Psychology Department is delighted its new Psychology Knowledge Exchange Internships Scheme. Starting in the summer of 2021, this exciting inititative, supported and funded by the University, offers external organisations the opportunity to benefit from our expertise and state of the art reseources, while offering students the chance to be involved in real-world research and enhance their skills and employability. To find out more, download the 2021 Psychology Knowledge Exchange Internship Scheme flyer.
Take part in our research
We currently welcome external participants in the following topical research project:
Volunteering for the Covid-19 vaccination effort
Are you, or have you been, a volunteer in the Covid-19 vaccination efforts? Whether you're a volunteer driver or a specialist volunteer, we would love to hear from you. To find out more and get in touch, visit the Volunteering Research Hub website.
Consultancy and facilities
The Department of Psychology also offers consultancy services and has cutting-edge facilities and laboratories for psychology research, as well as cubicles for experimental work. We have also been able to invest in state-of-the-art software and equipment. Explore our excellent facilities.
For all the latest from this dynamic department, follow Psychology at Winchester on Twitter
Meet the Psychology team
Academic team
Dr Rachel Wilcock, Reader in Psychology and Head of Department
Dr Ana Aznar, Lecturer in Psychology
Dr Sarah Bayless, Senior Lecturer in Psychology
Dr Valérie Bonnardel, Reader in Experimental Psychology
Dr Kim Bradley-Cole, Senior Lecturer in Occupational Psychology
Dr Wing Yee Cheung, Lecturer in Psychology
Dr Michelle Cleveland, Senior Lecturer in Psychology
Dr Deborah Crossland, Lecturer in Psychology
Dr Clare Davies, Senior Lecturer in Psychology
Dr Andrea Gibbons, Lecturer in Psychology
Dr David Giles, Reader in Media Psychology
Dr Daniel Gill, Senior Lecturer in Psychology
Dr Sarah Golding, Postdoctoral researcher
Dr Debra Gray, Reader in Psychology
Dr Jackie Hillman, Senior Lecturer in Forensic Psychology
Dr Margaret Husted, Senior Lecturer in Psychology
Dr Rhiannon Jones, Senior Lecturer in Psychology
Dr Wendy Kneller, Senior Lecturer in Psychology
Dr Feni Kontogianni, Lecturer in Psychology
Jenny Kontosthenous, Lecturer in Forensic Psychology
Dr Gary Lancaster, Lecturer in Psychology
Dr Joost Leunissen, Lecturer in Psychology
Dr Lynn McKeague, Senior Lecturer in Psychology
Dr Beth Parsons, Lecturer in Psychology
Dr Merce Prat-Sala, Senior Lecturer in Psychology
Dr Jordan Randell, Lecturer in Psychology
Dr Kirsty Ross, Senior Lecturer in Psychology
Dr Cassie Richardson, Senior Lecturer in Psychology
Dr Liam Satchell, Lecturer in Psychology
Prof. Paul Sowden, Professor of Psychology, Cognition and Creativity
Dr Joe Stubbersfield, Lecturer in Psychology
Dr Amy Warhurst, Lecturer in Psychology
Dr Frances Warren, Lecturer in Psychology
Dr Genevieve Waterhouse, Senior Lecturer in Psychology
Dr Adrian Whyte, Lecturer in Psychology
Other lecturing staff
Technical team
Our Technicians are important members of the team, invaluable to staff and students alike. Find out more about their work and their research interests.
I graduated from Winchester University in October 2014 with a BSc in Psychological Science. In January 2015 I joined the Psychology Department as a Technician. Working as a full-time technician has meant being involved in many projects around the Department. Several of these have been experimental psychology projects, which I have supported in a variety of ways including custom programming in Python, Matlab, HTML, JavaScript and C++. Beyond this, my role is to support student learning, staff teaching and general maintenance and support of the department software and equipment. This can include recording tutorials, leading workshops, creating teaching and research materials and being a friendly face around the department. Since starting as a technician, I have completed a part-time MSc in Psychological Research Methods (2016-18, Birkbeck College) and I am currently studying for a PhD (2019-Present, University of Winchester), exploring the credibility of political election candidates and voters' opinions. When not studying I can often be found in the Psychology department kitchen posing puzzles and riddles or fixing equipment.
I joined the Psychology department in November 2015 and have been learning ever since how broad a subject Psychology is. Many of my skills I gained working in the IT industry designing solutions for customers to run their business with and helping software vendors integrate their software are applicable to my role as a Psych Tech. For example, understanding different project requirements and providing staff and students with access and technical support for the broad range of tools and experimental software used in teaching and research. Often I am asked to assist with refining the design of a study, setting up a laboratory, or coaching people to use the labs and other resources available at Winchester independently. I also provide demonstrator and teaching support on a number of modules and frequently develop experiments for use in research. As a Psychology Technician, time is also spent looking at the future needs of the department and assisting the Head of Department in planning and implementing this.
I studied BSc Psychology at the University of Warwick and graduated with a First in 2019, before joining the Psychology Department at the University of Winchester as a Research Assistant. In March 2020, I joined the Psychology Technicians Team, supporting teaching and research in the Department. My role includes providing technical support to teaching on modules, creating practical experiments for use in workshops, and helping our students conduct research projects. I work part-time as a Psychology Technician and continue to undertake research work in my remaining time. I have a keen interest in cognitive neuroscience and psychopathology, specialising in methods such as Electro-encephalography (EEG) and Transcranial Electrical Stimulation (TES), and can support student and staff wishing to use these methods in their research.
Visiting Research Fellows
Research in Psychology