Psychology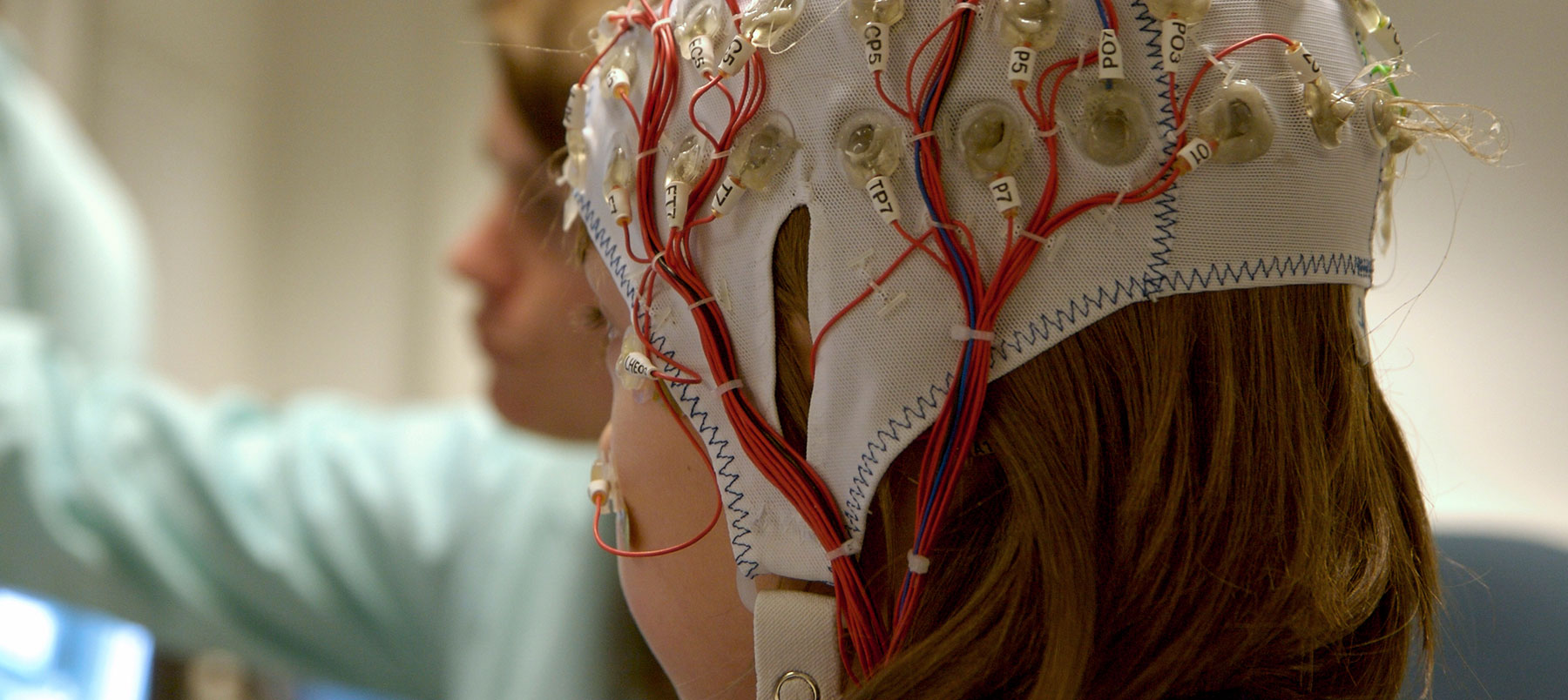 Welcome to the Department of Psychology
We are a forward-looking and energetic department combining excellence in learning and teaching with a strong and active research culture.
We strive to provide the best educational experience for you and take pride in doing so within a friendly, intimate and supportive learning environment.
We offer a growing portfolio of Psychology programmes at undergraduate and postgraduate level. Our British Psychological Society accredited degrees explore every aspect of human behaviour, from biological, social and developmental psychology to psychological disorders and cognitive neuroscience.
Research activity is organised into various active research groups, reflecting our cognitive, developmental and social psychological research strengths. This research feeds directly into our teaching ensuring a fresh, vibrant learning experience with academics who have an international reputation in their specialist area. What's more, there are opportunities for you to get directly involved with our research during your degree.
The Department of Psychology also offers consultancy services and has cutting-edge facilities and laboratories for psychology research, as well as cubicles for experimental work. We have also been able to invest in state-of-the-art software and equipment.
The department runs a newly launched Centre for Forensic and Investigative Psychology and organises an annual seminar series with internal and external guest speakers. These events are open to all staff and students, and you are actively encouraged to attend.
Meet the Psychology team
Academic team
Dr Rachel Wilcock, Reader in Psychology and Head of Department
Marnie Akers (née Allen), Lecturer in Forensic Psychology
Dr Ana Aznar, Lecturer in Psychology
Dr Kim Bradley-Cole, Senior Lecturer in Occupational Psychology
Dr Wing Yee Cheung, Lecturer in Psychology
Dr David Giles, Reader in Media Psychology
Dr Sarah Bayless, Senior Lecturer in Psychology
Dr Valérie Bonnardel, Reader in Experimental Psychology
Dr Michelle Cleveland, Senior Lecturer in Psychology
Dr Deborah Crossland, Lecturer in Psychology
Dr Clare Davies, Senior Lecturer in Psychology
Dr Tim Gamble, Senior Lecturer in Psychology
Dr Daniel Gill, Senior Lecturer in Psychology
Dr Debra Gray, Reader in Psychology
Dr Jackie Hillman, Senior Lecturer in Forensic Psychology (academic profile forthcoming)
Dr Margaret Husted, Lecturer in Psychology
Dr Rhiannon Jones, Senior Lecturer in Psychology
Dr Wendy Kneller, Senior Lecturer in Psychology
Dr Gary Lancaster, Lecturer in Psychology
Dr Lynn McKeague, Senior Lecturer in Psychology
Dr Dimitra Pachi, Senior Lecturer in Psychology
Dr Merce Prat-Sala, Senior Lecturer in Psychology
Dr Jordan Randell, Lecturer in Psychology
Dr Kirsty Ross, Senior Lecturer in Psychology
Dr Liam Satchell, Lecturer in Psychology
Prof. Paul Sowden, Professor of Psychology, Cognition and Creativity
Dr Amy Warhurst, Lecturer in Psychology
Dr Genevieve Waterhouse, Senior Lecturer in Psychology
Dr Mike Wood, Lecturer in Psychology
Technical team
Psychology technicians
Visiting Research Fellows
Research in Psychology
'World-leading' research
Research in Psychology at Winchester is wide-ranging and of international standard, with particular strengths in human perception and cognition, health and wellbeing, forensic investigation, and identity.
2014 Saw the first Research Excellence Framework submission from a rapidly growing department. Of our research output, 2.8% was rated as 'world-leading', and nearly 80% rated 2* or 3* (of international standing), with particular strengths identified in human perception and cognition. Studies that demonstrated impact included the effects on memory of nitrogen narcosis for deep-sea divers, and research that showed how the muscle-building culture of men's magazines influences young male readers.
Since submitting our REF application in 2014, the Psychology Department has recruited many new staff, most with very strong publications and several with very high impact. Staff are highly active in the production of academic literature, editing peer-review journals, the reviewing and refereeing of grant proposals and articles, and presenting work at international conferences. They are also involved in international research networks in areas relevant to cognition, perception, forensic psychology, social psychology and developmental psychology. Internally, several Winchester Psychology staff are involved in the interdisciplinary, collaborative Health and Wellbeing Research Group.
Research groups and centres
Centre for Forensic and Investigative Psychology
Launched in Oct. 2017, the aim of the Centre for Forensic and Investigative Psychology is to encourage and develop research opportunities, as well as dissemination of such research with interested parties, both within the University of Winchester and externally.
Find out more about the Centre for Forensic and Investigative Psychology.
Brain, Behaviour and Cognition Group
he Brain and Cognition group researches a wide range of topics including cognitive and affective neuroscience, auditory and visual perception, face processing, attention, memory, human-computer interaction, categorization of space and place, risk taking, deception, contemplative practice, abnormal cognition, and the effect of psychedelic drugs on cognition and mental health and wellbeing. Methods include behavioural, experimental, electroencephalography (EEG), eye-tracking, skin conductance response (SCR), psychophysics, connectionist and computational modelling.
For more information, contact Dr Rhiannon Jones.
Health, Work and Wellbeing Group
The group is interested in research looking at health and wellbeing across the lifespan and within different contexts and cultures. There is a particular focus among members of the group on the development of healthy workplaces and inclusive working practices from both a physical and psychological health perspective. Specialists within the group undertake the design, implementation and evaluation of behaviour change interventions across a range of health behaviours and applications. The group is open to working with specialist groups and external partners and welcomes enquiries from prospective research students and collaborators.
For more information, contact Dr Margaret Husted.
Childhood and Youth Psychology Group
The Childhood and Youth Psychology Research Group from the University's Department of Psychology focuses its research interest on areas that benefits the acquisition of knowledge as well as having practical applications such as behaviour change, and intervention design and evaluation, related to children and young adolescents. The research approaches used by different members of the group are broad and include qualitative as well as quantitative methodologies. However, in a wider sense, all members of this group investigate topics where basic research intersects with applied topics.
For more information, contact Dr Ana Aznar.
Politics, Communities and Identities Group
The Politics, Communities and Identities group brings together researchers within the Department of Psychology who share a broad interest in critically examining the social psychological aspects of political structures and practices, community processes, and identities. This research group has a strong critical focus, aiming to examine and address challenges facing contemporary society, critique policy agendas, and develop new and innovative research practices. The group also has a strong outward focus, seeking to builds interdisciplinary links to organisations, communities and movements in local, national and international contexts.
For more information, contact Dr Debra Gray.
Postgraduate research supervision
Research and teaching facilities
Psychology Research Laboratory
The Psychology Research Laboratory accommodates a range of research, for example it contains a play area with comfortable seating for children and parents/guardians, a one-way mirror for observations, and general-purpose PCs suitable for running various kinds of computerised studies.
Social Research Laboratory
The Social Research Laboratory comprises two rooms. The observation room is equipped with comfortable seating and tables, a plasma screen, microphones and remote control video cameras, and is suitable for conducting focus groups or interviews. Adjacent to this is a control room which allows for complete monitoring and remote control video and audio recording from the observation room.
EEG Laboratory
The EEG laboratory houses a BIOSEMI EEG system capable of running electroencephalogram (EEG) experiments on research participants. Typically, EEG research measures the brain activity of participants when performing a variety of additional tasks or perceiving experimental stimuli. The EEG lab is also equipped with a research PC for the presentation of computer-based tasks.
Experimental Cubicles
The Department possesses eight research cubicles suitable for cognitive/experimental research. All are equipped with modern PCs, some with touch-screens, with experiment-generating software (such as E-Prime or Superlab). One cubicle is equipped with an artificial daylight illuminant suitable for research into colour vision. The department also has a Human Performance and Perception laboratory and a Colour & Vision laboratory where auditory and visual perception experiments can be carried out.
Psychometric Test Library
The Department has a well-stocked psychometric test library with a range of cognitive, educational and developmental test batteries as well as aptitude, ability and personality tests.
Software
The Department has an extensive range of software available for student and staff use, both for teaching and research. The Department uses SPSS extensively, as well as software such as PsychoPy, R, E-Prime and Matlab.
Additional facilities
The Department has BIOPACs available for student and staff use, and these are used regularly in teaching. They support a number of electrophysiological measures, including EEG, GSR and heart-rate monitoring.
The Department has privileged access to modern computer suites which are used frequently in the teaching of research methods and statistics.
In addition, the Department has a Psychology Computer Suite and Psychology Resource Room, both available for student and staff use.