Ground breaking ceremony marks build of second University-sponsored primary academy
27 Sep 2019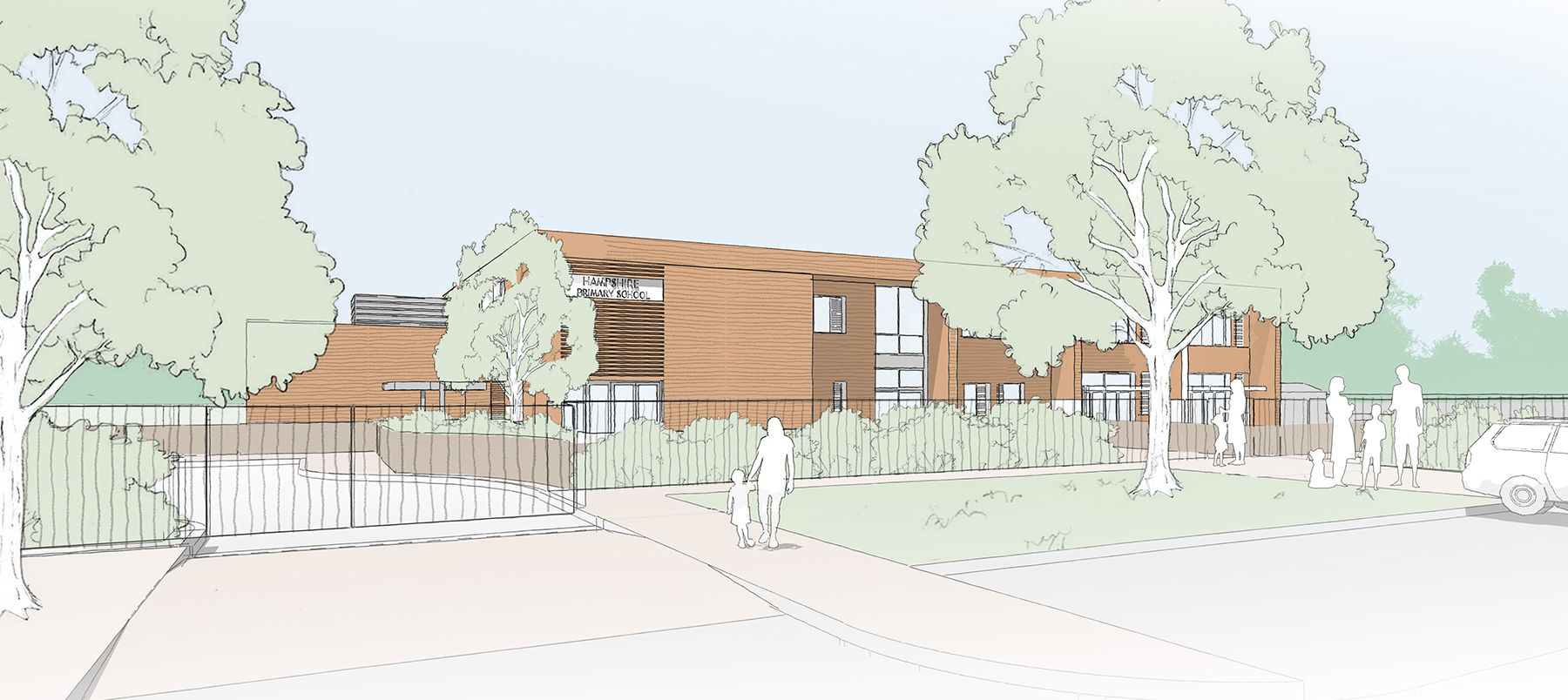 Architectural artistic impression above supplied by Hampshire County Council.
A traditional ground breaking ceremony held today (Friday 27 September) celebrated the start of Hampshire County Council's construction of Stoneham Park Primary Academy – a new school sponsored by the University of Winchester Academy Trust (UWINAT).
Stoneham Park Primary Academy will be a new 315 place primary academy for children aged 4-11 situated on the North Stoneham Park housing development site in Eastleigh. The school is due to open its doors to the first cohort of 30 reception students in September 2020, coinciding with the opening of Barton Farm Academy in Winchester, the University's first primary academy.
Professor Joy Carter CBE, DL, Vice-Chancellor of the University of Winchester, and Chair of the University of Winchester Academy Trust turned the first soil. She was joined by Councillor Patricia Stallard, Executive Lead Member for Children's Services and Young People, and Councillor Roz Chadd, Executive Member for Education and Skills, from Hampshire County Council, as well as Cliff Kinch, Area Director for construction company Morgan Sindall.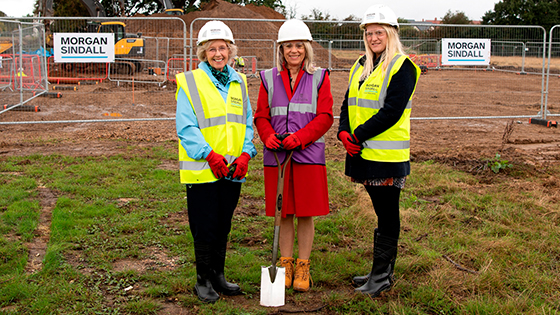 Pictured L-R: Councillor Patricia Stallard, Professor Joy Carter and Councillor Roz Chadd
"It is a huge privilege to be setting out on this journey to lead another successful school to serve our community. We aim to create an academy where children will learn and flourish and which is aspirational, inclusive and joyful," said Professor Carter.
"Stoneham Park Primary Academy will benefit from the University's outstanding track record in teacher education and extensive regional school partnerships, our evidence-based learning and teaching, our powerful links with local business and community organisations, and our passionate commitment to sustainability and social justice."
In delivering the school, Hampshire County Council has committed an investment of almost £7 million of developer contributions and assigned its award-winning architects to design and oversee the school's build by the County Council's contractors, Morgan Sindall.
Councillor Stallard commented: "We endeavour to provide every child in Hampshire with a school place near to where they live, as far as possible and, to this end, we have a strong track record in school place planning; working with borough and district authorities, and developers, to accurately forecast future need. Stoneham Park Academy is being built to meet demand particularly for places arising from families moving into the 1,100 new homes development at Stoneham Park."
"This will be a welcome addition to Hampshire's family of schools, of which over 90 per cent are rated good or outstanding by Ofsted," added Councillor Chadd. She continued: "We are very lucky in this county to have high quality education facilities and I have every confidence that this new school will be no exception. Our designers have years of experience creating functional learning spaces, making the best use of advances in technology and building materials to achieve energy efficiencies and environmental sustainability. So, pupils and teaching staff alike will reap the benefits."
The University of Winchester was approved as an academy sponsor by the Department of Education in 2014.
Nicola Wells will be acting as head teacher designate for both Barton Farm and Stoneham Park academies. Both aim to provide high-quality, values-driven education to all, and align closely with the University's values of Compassion, Individuals Matter and Spirituality.
"I am very excited to be opening Stoneham Park Primary Academy," commented Nicola. "We have a wonderful sponsor in the University of Winchester and together we intend to provide an exciting, broad and balanced educational experience for the children in this growing community. We are particularly lucky to have such extensive grounds and we intend to take full advantage of this with a full forest school and outdoor learning programme."
Press Office | +44 (0) 1962 827678 | press@winchester.ac.uk | www.twitter.com/_UoWNews
Back to media centre