November 2019 at the University of Winchester
5 Dec 2019
November celebrated the launch of the University's Strategic Vision 2030, to help shape a better world through everything we do. The Vice-Chancellor has secured her place on the UK Climate Commission while staff and students celebrate professional achievements. Then, take a look at our blog highlights to discover more from our newly formed partnership with The Conversation.
Our Strategic Vision 2030 Launch
As our strategy states, future generations face a significantly different world. The climate crisis, technological advancements, globalisation, demographic shifts, geopolitical uncertainty and resource shortages will have a major impact on how we work, connect, go about our lives and care for our planet. The future of higher education will be subject to much change and uncertainty, from constant shifts in policy to increasing marketisation and global competition.
Within this changing environment - and for the future of our planet and all life – we need to step up and play our part. Our Strategic Vision 2030 - aligned with the United Nations' Agenda 2030 and Sustainable Development Goals - sets out how we will be an institution that makes a difference. With our students, we will co-design and co-deliver rigorous, transformative and challenging education that builds them up to be wise and knowledgeable. Our aim is that they find success in their careers and have influence in the world around them. Our alumni will be known for their ambition to be confident agents for change, deeply committed to living lives of purpose and meaning. If you wish to learn more about our strategy, click here.
Vice-Chancellor appointed to UK Climate Commission
Professor Carter and son on the Global Day of Action for the Amazon, Hampshire Chronicle
Professor Joy Carter DL, Vice-Chancellor, has been appointed as the University of Winchester and GuildHE representative on the council of the Climate Commission for UK Higher and Further Education Leaders. The Climate Commission was launched on 13 November at Ravensbourne University, London.
The commission aims to be a catalyst for real action and long term change. It will develop an action plan in response to the government's stated climate and environment emergency on 1 May 2019. This comes after the University's climate emergency declaration during September's Global Climate Strike. The Climate Commission's emergency framework will be drawn together to initiate a strategic sector-wide approach to tackle the most pressing climate issues. This framework will guide and support all UK and Irish universities and colleges to be net zero emissions by 2050 at the latest. For further information on Professor Carter's involvement with the UK Climate Commission, please read on.
University pledges to welcome refugees on World Access to Higher Education Day
The University of Winchester has joined fifteen universities in signing the UK pledge on a new commitment to increase access to higher education for refugees and asylum seekers. The pledge was unveiled on World Access to Higher Education Day (26 November), alongside the global statement of support coordinated by the UN Refugee Agency (UNHCR).
The pledge commits universities and other organisations to continue and expand their work on access to higher education for refugees and people seeking sanctuary. Practically, this support will take the form of scholarships, University of Sanctuary initiatives, student action and through building on the many other contributions already undertaken by the sector.
Vice-Chancellor, Professor Joy Carter CBE DL, said: "Winchester is a caring, values-driven institution, committed to social justice. We warmly welcome those fleeing violence and persecution in their own countries and we value the contribution those seeking sanctuary bring to the University and more widely to the city of Winchester."
Read more on our commitment to widening access to higher education, here.
University archaeologists support multi-national rehabilitation programme for military veterans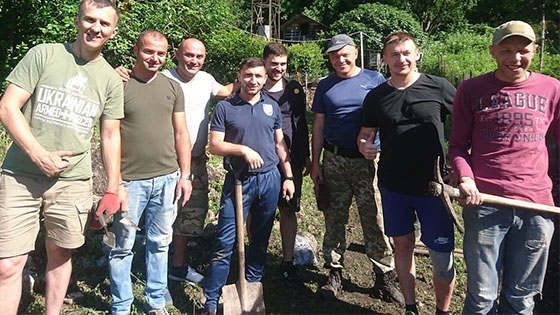 Members of the University of Winchester Department of Archaeology, Anthropology and Geography have been working alongside veterans of conflicts in Georgia, Ukraine, and Afghanistan, building on the success of the Heritage for Heroes scheme - a pioneering joint initiative established by the University and the charity Help for Heroes which enables British former service personnel to study archaeology.
The programme was conceived in 2016 by Dr Paul Everill, Senior Lecturer in Archaeology at the University, and Giles Woodhouse, an archaeologist and retired senior army officer, who at the time was Head of Recovery South at the charity's Tedworth House Recovery Centre in Wiltshire.
"It has been an incredibly humbling experience to work alongside men with a range of physical and mental injuries, and to see them benefit from the experience," said Dr Everill. Read the full story.
University of Winchester graduate secures publishing deal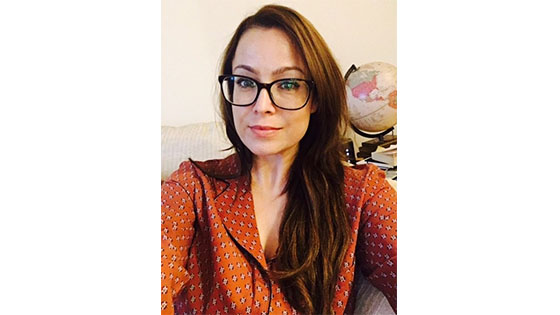 A University of Winchester MA Creative and Critical Writing graduate, Clare Whitfield, has secured a publishing deal with her debut crime novel, which focuses on a protagonist who suspects her husband of being Jack the Ripper. The book, entitled People of Abandoned Character, has been picked up as part of a two-book deal by publishing house, Head of Zeus and will be released in October 2020.
The book's synopsis reads: "When Susannah Chapman rushes into marriage with wealthy surgeon Thomas Lancaster, she believes her future is set. But after the honeymoon things start to turn sour at home, and as Susannah follows the newspaper reports of the terrifying killer stalking the streets of Whitechapel, her suspicions over where her errant husband has been spending his time take the darkest route possible." Find out more about Clare's inspiration and influences here.
Winchester student films shortlisted for national awards
For the second consecutive year, students from the BA (Hons) Journalism programme at the University of Winchester were shortlisted by the Broadcast Journalism Training Council (BJTC) Student Journalism Awards 2019, for prestigious national awards in film.
Third year student Emily Wilson, was selected as the runner up in the Best Social Short category for her video Celebrating Down's Syndrome in a Changing Society. The video shows how perceptions and social stigmas about people with Down's syndrome have changed with time.
Harry Acton, now a graduate of the University, was also shortlisted, and selected as runner up for the Best TV Documentary award, for his documentary Inside CanDog: The Untold Story. An expose on CanDog, Ibiza which has already influenced positive changes at the animal recovery centre, with the citizens of Ibiza now involved in the process of turning the centre around and making CanDog fit for all dogs who need it.
The student's work, along with the initial shortlist announcement can be viewed here.
Social Mobility Pledge
We're pleased to announce that @_UoW are the 50th University signed up to The Pledge 🎉 pic.twitter.com/wVbWgZXzia

— Social Mobility Pledge (@thesmpledge) November 4, 2019
This November, we have become the 50th University to sign the Social Mobility Pledge. This comes as part of the University's commitment to ensure that every child in the country has a chance to succeed, no matter the origin, income, or profession of their parents.
In conjunction with signing the Social Mobility Pledge, we entered the UK Social Mobility Awards 2019 and secured a place on the Social Mobility Awards Honour Roll.
In 2016, the University of Winchester identified a need for supporting children from military service families in accessing and participating in higher education. Research shows that despite four out of ten service children possessing the ability to progress into higher education, they are unlikely to do so. This research, based on 2011 census data, estimates the participation rate of young people from military service families in higher education to be approximately 24%, compared to a rate of approximately 43% in the general population; reflecting a gap of around 19%. Service children have unique experiences to others including facing parental separation and disrupted schooling.
The University acknowledges both the positive attributes service children can bring to education and the challenges they may face in their educational progression. Recognising the need, the University is committed to supporting our armed forces community and to upholding the Armed Forces Covenant. The University has been at the forefront of work recognising and supporting service children, working in partnership with Hampshire County Council and the Ministry of Defence to lead a new nationwide collaborative network. Not only does this research help us identify a need to broaden access to higher education for service children, but it serves as a mark of progress towards making higher education accessible to all.
Sarah-Louise Collins, Director of Widening Participation said: "We continue to drive for social mobility through the commitments made in our new Access and Participation Plan, approved this month by the Office for Students. The plan sets out our ambitious goals to closing gaps in access and participation, including working with local communities to increase low rates of progression into higher education."
Green Gown Award Shortlist
The University of Winchester was selected as a finalist across three categories in this year's Green Gown Awards. Finalists were selected as exemplary institutions for enabling and empowering young people to tackle pressing global issues and ensure a brighter future.
The University's Responsible Futures Team was selected as one of only three finalists to give a live presentation at the award ceremony, before votes were cast for the Outstanding Leadership Team of the Year, resulting in a Highly Commended recognition.
Earlier this year the team worked to achieve the National Union of Students (NUS) Responsible Futures accreditation. This accreditation recognises commitment to embedding sustainability and social responsibility across teaching and other activities, creating a shift to a genuine whole institution approach when addressing sustainability and the environment. The Team adopted a fully inclusive, simultaneous 'top-down/bottom- up' approach that included the Senior Management Team, including the Vice-Chancellor and all Deans, Winchester Student Union, students, academics, professional services, Trade Unions, local charities and community members.
Blog Highlights
This month, we have multiple blogs to highlight, including one published on The Conversation, an independent outlet for news and views, sourced from the academic and research community.
Hedgehog Friendly Campus Campaign
Over the past month, staff and students at the University of Winchester have been actively engaged in various initiatives to attain Hedgehog Friendly Campus (HFC) accreditation. The message from this national scheme, funded by the British Hedgehog Preservation Society, is that hedgehog populations are in decline, but universities can be part of the solution by enacting positive change. Dedicated hedgehog rescuer and second year MSc Animal Welfare Science, Ethics and Law student, Carol Cook, tells us more here.
Five minutes with Emre Ramazanoglu
We were joined this month by drummer, producer, mix engineer and composer Emre Ramazanoglu who has worked with some of the biggest names in pop music. We caught up with Emre during a visit to Winchester when he worked with students from the BA (Hons) Music and Sound Production and BA (Hons) Popular Music: Production and Performance degree programmes, alongside programme leader Dr Niall Thomas.
Find out more in our exciting 'Five Minutes With' blog, here.
The Conversation Highlight: Myths about only children debunked
Our first full month engaging with The Conversation has produced some excellent content, making it hard to select just one article to highlight.
The article we have chosen this month, is titled Myths about only children debunked. The original article was written by Dr Ana Aznar, Lecturer in Psychology. Read the full piece here. Since its initial publication on The Conversation, the article has been republished in multiple countries and has reached over 190,000 people.
Press Office | +44 (0) 1962 827678 | press@winchester.ac.uk | www.twitter.com/_UoWNews
Back to media centre