September 2019 at the University of Winchester
4 Oct 2019
Ground-breaking events, a new state-of-the-art Forensic Laboratory and students set to become some of the world's first United Nations accredited Climate Change Teachers. Working towards a sustainable future and upholding the University values of Compassion, Individuals Matter and Spirituality.
University of Winchester declares climate emergency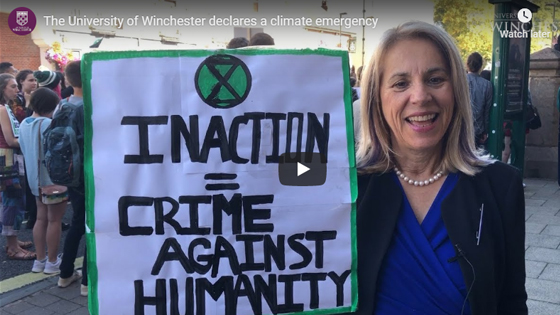 As the University for Sustainability and Social Justice, Winchester declared a climate emergency and over 100 members of staff and students marched into the city centre as part of the global day of action, Friday 20 September, to demand climate justice for everyone.
"We have declared a climate emergency as future generations face a significantly different world," said Professor Joy Carter CBE, DL, Vice-Chancellor of the University of Winchester, who participated in the march. "As we deal with devastating climate breakdown and head towards dangerous tipping points, we must take action before it is too late." Read on for the full announcement here.
The University has also just launched the #EcoStar competition for the next generation of environmental journalists. 16 to 18-year-olds in Hampshire are encouraged to submit a 500-word article about a local person or place making a positive change. The winning article will be published in the Hampshire Chronicle. Find out more here.
Award-winning actor David Suchet opens Forensic Laboratory
David Suchet CBE, famous for portraying Agatha Christie's Hercule Poirot, opened the University of Winchester's new contemporary Forensic Laboratory during a formal ribbon-cutting ceremony. David received an Honorary Doctorate of Arts from the University in 2017 for services to acting.
Vice-Chancellor Professor Joy Carter CBE, DL said: "These state-of-the-art specialist facilities enrich our teaching and allow students to gain vital practical skills that will help them stand out to employers."
The laboratory facilities host a range of industry-standard equipment, including a petrographic microscope, an electrophoresis DNA kit, a fume cupboard and advanced glass wash facilities to help preserve a controlled environment. These will benefit students on courses such as Anthropology, Archaeology, Cyber Crime and Forensic Investigation, Forensic Studies, Geography and Human Bioarchaeology. To see what was happening on the day, read the full article here.
World-first in climate change teaching for University of Winchester
University of Winchester teacher training students are on track to become some of the world's first United Nations accredited Climate Change Teachers. The Climate Change Teacher course accredited by UN CC:Learn in partnership with Harwood Education, will be rolled out at Winchester over the coming academic year; with an official launch in spring 2020.
Winchester is the first university in the world to offer student teachers the opportunity to undertake the Climate Change Teacher course. The course is designed to equip future educators across all age groups and disciplines with the knowledge and confidence to deliver lessons on climate change. Students will cover a range of topics including climate change science, gender and environment, children and climate change, cities and climate change, and human health. For more information on this amazing opportunity, read our announcement here.
Ground breaking ceremony marks build of second University-sponsored primary academy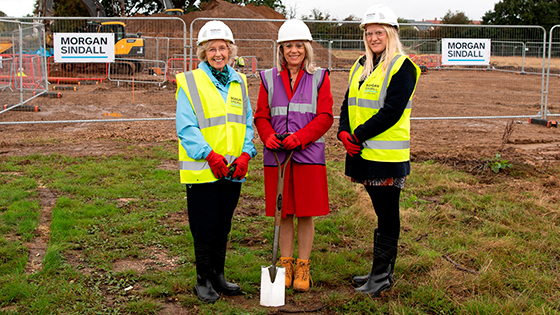 A traditional ground breaking ceremony was held to celebrate the start of construction of Stoneham Park Primary Academy - a new school sponsored by the University of Winchester Academy Trust (UWINAT) and funded by Hampshire County Council.
Stoneham Park Primary Academy will be a new 315 place primary academy for children aged 4-11 situated on the North Stoneham Park housing development site in Eastleigh. The school is due to open its doors to the first cohort of 30 reception students in September 2020, coinciding with the opening of Barton Farm Academy in Winchester, the University's first primary academy.
Professor Joy Carter CBE, DL, Vice-Chancellor of the University of Winchester, and Chair of the University of Winchester Academy Trust turned the first soil. She was joined by Councillor Patricia Stallard (pictured left) and Councillor Roz Chadd (pictured right) from Hampshire County Council. Click here for the full story and to hear from Nicola Wells, head teacher designate for both University sponsored primary academies.
University of Winchester boosts sustainable credentials with Green Tourism Silver Award
The University of Winchester's commitment to sustainability throughout its business operations as a conference centre and events facility has secured a Silver Award from Green Tourism, the largest sustainable certification programme in the world.
Winchester was praised by Green Tourism's independent assessors for a number of its sustainability initiatives. They highlighted the wide use of LED lights and solar panels in venues, the ethical food and drink choices that feature on menus, which support food producers and animal welfare, and the drive to reduce the use of disposable cups. The fact that wildlife is actively encouraged onto University grounds by creating and enhancing biodiverse habitats was also commended. Keep your eyes open over the next month for more information on our work with wildlife, but in the meantime get the full story here.
Blog Highlight: You, Me and Keats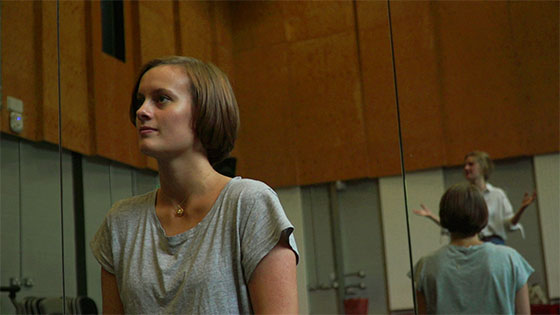 Cara Honey, pictured above, has written an insightful piece to reflect on the life of one of England's greatest poets, John Keats, and his time in Winchester - from August and October 1819. Cara is the director of 'Two Hundred Years of Autumn', a show celebrating the life of John Keats which will be performed at the Theatre Royal Winchester on the evening of 7 October as part of the city's celebrations for the bicentenary of John Keats's famous stay in Winchester.
An excerpt from the blog states: "1819 was the greatest year of Keats' artistic life. That year he wrote all his greats odes, including his odes to Psyche and to a Nightingale and his odes on Melancholy, Indolence and a Grecian Urn. During his stay in Winchester, he also wrote one of the best-known and best-loved poems in the English language, his ode 'To Autumn'." Click here for the full blog.
Announcement
September also saw the launch of not one, but two new institutes within the University. The Institute of Education launched with the help of Halterworth Primary School Choir and keynote speaker Chris Waterman, focusing on teacher training. This was followed by the launch of the Institute for Contemplative Education and Practice - a unique and innovative project exploring alternative ways of teaching and learning in higher education. You can read about how our contemplative education and practice is being put into action, in line with the Institute of Education here.
Press Office | +44 (0) 1962 827678 | press@winchester.ac.uk | www.twitter.com/_UoWNews
Back to media centre